DEA Employees Received Bonuses despite Sexual Misconduct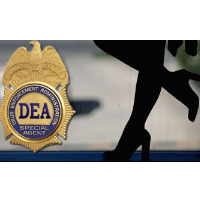 (photo: Getty Images)
The Drug Enforcement Administration (DEA) gave thousands of dollars in bonuses to employees who were under discipline for sexual misconduct despite regulations forbidding the practice.
The Justice Department's Office of the Inspector General found that 10 bonuses—in one case $32,000—were paid to eight DEA employees. "DEA policy generally prohibits employees from receiving promotions, awards, or other favorable personnel actions for a period of 3 years after being subject to discipline for significant misconduct or while a misconduct investigation is pending, absent a specifically approved exception reflecting the basis for going forward," according to the IG report (pdf).
One such bonus of $5,000 was paid to a supervisor who, according to the report: "made numerous inappropriate sexual comments; asked the assistant to watch pornographic movies; and, among other allegations, routinely threw items, yelled at employees, and used other vulgarities in the office and at official functions." But about six months before the reprimand period was to expire, the supervisor got the bonus.
Other bonuses were paid to those who had been involved in sex parties in Colombia or had been found to use prostitutes while on assignment. One regional director who failed to report that subordinates had patronized prostitutes received four performance awards totaling more than $68,000.
"It is astounding that employees who should have been prosecuted, fired, or at a minimum, severely disciplined for their misconduct, were instead given undeserved promotions and bonuses," said Rep. Jason Chaffetz (R-Utah), the chairman of the House Oversight and Government Reform Committee who requested the investigation last April, according to Government Executive. "Rewarding bad apples promotes a toxic work environment. It destroys morale and is a disservice to the majority of hard-working federal employees who play by the rules. It is a disgrace that taxpayer dollars are being wasted on those who violate our trust and abuse their positions. If we want a culture of excellence in the federal workforce, we must penalize bad behavior and reward merit."
In response to the report, the DEA's acting deputy chief of inspections, Michael Dixon, said the agency has put procedures in place to improve its review of bonuses to ensure they're not going to someone who is involved in a misconduct investigation.
-Steve Straehley
To Learn More:
Drug Agents in Prostitution Scandal got Hefty Bonuses Afterwards, Watchdog Says (by Lisa Rein, Washington Post)
DEA Paid Bonuses to Employees with Records of Sexual Harassment, Other Misconduct (by Charles S. Clark, Government Executive)
Bonuses and Other Favorable Personnel Actions for Drug Enforcement Administration Employees Involved in Alleged Sexual Misconduct Incidents Referenced in the OIG's March 2015 Report (Office of the Inspector General, U.S. Department of Justice) (pdf)
Why Did it Take So Long for DEA Chief Leonhart to be Forced to Resign? (by Noel Brinkerhoff and Danny Biederman, AllGov)
Bush-Era Drug Enforcement Agents Held Sex Parties Funded by Colombian Drug Cartels (by Noel Brinkerhoff and Steve Straehley, AllGov)