CIA Whistleblower Goes on Trial
Thursday, January 15, 2015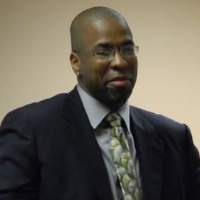 Jeffrey Sterling (photo: Heather Croyl)
Trial has begun for the latest whistleblower to be prosecuted by the Obama administration, a former Central Intelligence Agency (CIA) official charged with revealing classified information to a journalist.
Jeffrey Sterling is accused of telling New York Times reporter James Risen about the government's secret operation last decade to foil Iran's pursuit of nuclear weapons. Risen, who wrote about the clandestine effort in his 2006 book, "State of War," nearly forced to testify at Sterling's trial. Under pressure from media groups and others, the U.S. Department of Justice dropped its pursuit of Risen and instead is focusing on punishing Sterling, even though the case against him has been described as "largely circumstantial."
Federal prosecutors claim Sterling divulged classified information to get back at the CIA for not settling a discrimination lawsuit he launched against the agency. Sterling insists his actions were those of a whistleblower concerned about CIA management, which was why he raised concerns with Senate Intelligence Committee staffers.
Sterling's lawyer, Edward MacMahon, has said other CIA employees or people on Capitol Hill could have provided the information to Risen, who has said he had multiple sources for the book.
Sterling is the "latest in a string of former officials and contractors the Obama administration has charged with discussing national security matters with reporters," the Times' Matt Apuzzo wrote.
Others include former CIA officer John Kiriakou and two former government contractors, Donald Sachtleben and Stephen Kim, all of whom are in federal prison. In addition, Chelsea Manning (formerly known as Bradley Manning) is in military prison for giving secret documents to WikiLeaks; Thomas Drake, a former National Security Agency (NSA) worker, pleaded guilty to minor charges, and Edward Snowden, the NSA contractor who revealed numerous secrets about government spying and now is living in exile in Russia.
-Noel Brinkerhoff
To Learn More:
Trial Begins for Former CIA Official Accused of Breaching National Security (by Matt Apuzzo, New York Times)
Why Jeffrey Sterling Deserves Support as a CIA Whistleblower (by Norman Soloman, Huffington Post)
USA v. Jeffrey Alexander Sterling: Selected Case Files (Project on Government Secrecy)
Obama Urges Court to Reject Reporter's First Amendment Protection in Criminal Case (by Noel Brinkerhoff, AllGov)
Ex-CIA Officer Arrested in Continuing Obama Attack on Alleged Leakers (by Noel Brinkerhoff and David Wallechinsky, AllGov)