Chemical in U.S. Sunscreen Products Found to Be Lethal to Coral
Thursday, October 29, 2015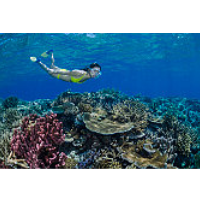 (photo: Pete Akinson, Getty Images)
The active ingredient in most sunscreens is responsible for killing coral reefs, according to a new study.
Beyond their existence as exotic rainbows of color spanning ocean floors, coral serves several indispensable purposes—it supports the spawning of marine life and acts as a first line of coastal defense against raging sea storms. But coral's days may be numbered, thanks not only to the effects of climate change, but to a chemical ingredient that exists in thousands of brands of sunscreens used daily by people around the world.
The chemical oxybenzone, which blocks UVA and UVB rays, is toxic to coral, according to the research published in Archives of Environmental Contamination and Toxicology. And it takes a very small amount of the chemical to damage a reef—62 parts per trillion, equivalent to a drop of water in six and a half Olympic-sized swimming pools. The concentration in the studied areas, Hawaii and the U.S. Virgin Islands, registered between 800 parts per trillion to 1.4 parts per million, which is 12 times the concentration necessary to harm coral.
It is estimated that 80% of the coral reefs in the Caribbean have already been lost.
It's not only environmentalists who are concerned about the assault on coral. When flow of revenue is affected, that's when corporations take notice, and in this case it's the tourism and fishing industries. From the standpoint U.S. fisheries, one U.S. government agency has placed a dollar value on coral: The National Marine Fisheries Service reports that coral's worth for U.S. fisheries is $100 million. But its value to tourism interests exceeds even that, according to the National Oceanic and Atmospheric Administration (NOAA).
"Local economies also receive billions of dollars from visitors to reefs through diving tours, recreational fishing trips, hotels, restaurants, and other businesses based near reef ecosystems," NOAA says on its website. "Globally, coral reefs provide a net benefit of $9.6 billion each year from tourism and recreation revenues, and $5.7 billion per year from fisheries."
The damage to coral reefs isn't confined to areas with sunscreen-slathered swimmers. "The most direct evidence we have is from beaches with a large amount of people in the water," one of the researchers, John Fauth, an associate professor of biology at the University of Central Florida, told The Washington Post. "But another way is through the wastewater streams. People come inside and step into the shower. People forget it goes somewhere." Some beach cities—Ocean City, Md., and Fort Lauderdale, Fla., are two—have sewer outfalls that take discharge out past swimming areas, but still dump waste in the ocean.
Every year, up to 14,000 tons of sunscreen lotion make their way into coral reef around the world. Much of that discharged lotion contains up to 10% of the oxybenzone chemical. Based on reefs' proximity to tourism spots, the study's researchers estimate that at least 10% of them are at risk of high exposure.
Oxybenzone is contained in more than 3,500 sunscreen products worldwide, including popular brands such as Coppertone, Baby Blanket Faces, L'Oreal Paris, Hawaiian Tropic and Banana Boat, according to the Post. There are alternatives available, which are listed by the Environmental Working Group.
"This study raises our awareness of a seldom-realized threat to the health of our reef life … chemicals in the sunscreen products visitors and residents wear are toxic to young corals," Pat Lindquist, executive director of the Napili Bay and Beach Foundation in Maui, told the Post. "This knowledge is critical to us as we consider actions to mitigate threats or improve on current practices."
-Danny Biederman, Steve Straehley
To Learn More
How we are All Contributing to the Destruction of Coral Reefs: Sunscreen (by Darryl Fears, Washington Post)
Almost Every Chemical-Based Sunscreen in the U.S. Linked To Coral Destruction (by Jess Colarossi, ThinkProgress)
Sunscreen Ingredient Toxic to Coral, Killing Off Reefs: Research (by Barbara Liston, Reuters)
Toxicopathological Effects of the Sunscreen UV Filter, Oxybenzone (Benzophenone-3), on Coral Planulae and Cultured Primary Cells and Its Environmental Contamination in Hawaii and the U.S. Virgin Islands (by C. A. Downs , Esti Kramarsky-Winter, Roee Segal, John Fauth, Sean Knutson, Omri Bronstein, Frederic R. Ciner, Rina Jeger, Yona Lichtenfeld, Cheryl M. Woodley, Paul Pennington, Kelli Cadenas, Ariel Kushmaro, and Yossi Loya, Archives of Environmental Contamination and Toxicology) (abstract)
Ecosystem Collapse Predicted as Human Activity Lays Waste to Marine Life (by Noel Brinkerhoff and Danny Biederman, AllGov)
Chemicals in Sunscreen, Toothpaste and Toys Found to Damage Human Sperm and Prevent Fertilization (by Noel Brinkerhoff, AllGov)