Ecosystem Collapse Predicted as Human Activity Lays Waste to Marine Life
Friday, September 18, 2015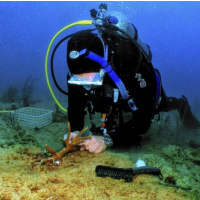 Coral reef restoration in Florida Keys (photo: NSU)
The world's oceans may experience an ecosystem collapse unless mankind takes serious steps to change how it influences and exploits species.
That's the message from the World Wide Fund for Nature (WWF), an international environmental organization that warned in a new report about the future of the seas and their inhabitants. WWF's Living Blue Planet Report (pdf) says overfishing, destruction of marine habitats, and climate change have put enormous strains marine mammals, birds, reptiles, and fish, cutting their global populations by 50% on average, reducing some fish species (including mackerels, tunas and bonitos) by nearly 75%, and pushing many species towards extinction. The group claims 25% of sharks, rays, and skates species face dying off completely as a result of overfishing by humans.
Tropical reefs are also under assault, having lost more than half their reef-building coral over the last 30 years—and the possibility of the remaining ones disappearing by 2050 because of ocean warming produced by climate change. WWF further says marine vertebrate populations were cut in half in number from 1970 to 2012.
As if that's not already enough for a call to action, WWF adds that a collapse of marine ecosystems could cause "an impending social and economic crisis" for the billions of people, primarily from developing countries, who rely on the oceans for food.
"Current international commitments fall far short of the action needed to stop levels of warming and acidification that are proving catastrophic to the ocean systems all people depend on," wrote the group in its report. "The fortunate news is that solutions do exist and we know what needs to be done. The ocean is a renewable resource that can provide for all future generations if the pressures are dealt with effectively,"
WWF's findings are derived from the Living Planet Index, a database developed by researchers at the Zoological Society of London.
-Noel Brinkerhoff, Danny Biederman
To Learn More:
Human Activity Pushing Marine Life to the Brink of Collapse (by Lauren McCauley, Common Dreams)
Failing Fisheries and Poor Ocean Health Starving Human Food Supply – Tide Must Turn (WWF)
Living Blue Planet Report (WWF and Zoological Society of London) (pdf)
Wildlife Put at Risk from Dumping of Pharmaceuticals (by Noel Brinkerhoff and Steve Straehley, AllGov)
Navy Gets Final Go for Sonar Training that Kills Marine Mammals (by Ken Broder, AllGov California)
Acidification of Oceans Caused by Climate Change to Last Tens of Thousands of Years (by Noel Brinkerhoff, AllGov)