Chairman of House Natural Resources Committee Tries to Divert Funds from 51-Year-Old Conservation Fund to the Oil Industry
Monday, November 23, 2015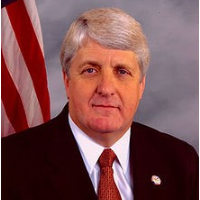 Rep. Rob Bishop
A far-right Republican congressman is single-handedly attempting to wreck a program that has preserved millions of acres of land for the enjoyment of all Americans.
Utah's Rob Bishop, who is chairman of the House Committee on Natural Resources, has held up routine renewal of the Land and Water Conservation Fund (LWCF). The fund was created in 1964, taking royalties from oil and gas drilling on the Outer Continental Shelf, federally owned land under U.S. shorelines. It has since provided money—$900 million a year when fully funded—for parks and conservation projects in every county in the United States.
"It's the greatest conservation program that no one has ever heard of," Amy Lindholm, the Land and Conservation Water Fund director at The Wilderness Society, told The Nation. "That's why it's easier for someone like Congressman Bishop to dismantle it."
Bishop's goal, according to The Nation, is to turn the fund into a gift for oil and gas drillers. He has unveiled a draft bill, the Protecting America's Recreation and Conservation (PARC) Act. That proposal not only would gut the LWCF, but would earmark 20% of its revenues to return to the energy industry to help finance oil and gas exploration.
Bishop's plan would also severely hamper LWCF's ability to purchase land and make it nearly impossible to do so in the West, an area particularly attractive to fossil fuel producers.
Some Democrats are fighting Bishop's plan. Representative Raúl Grijalva of Arizona has introduced a bill that would make LWCF permanent and even has 23 Republicans among its 195 co-sponsors for the legislation. Washington Democrat Maria Cantwell has introduced a similar bill in the Senate. But realistically, Bishop is likely to get his way unless there is strong opposition from his fellow Republicans.
-Steve Straehley
To Learn More:
This Conservation Program Is the Most Successful in U.S. History. Why Are Republicans Destroying It? (by Jimmy Tobias, The Nation)
Who's behind the Movement to Sell off Public Lands? (by Noel Brinkerhoff, AllGov)