CEO of Accreditor for For-Profit Colleges Resigns amid Growing Scrutiny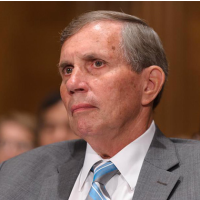 Albert Gray (photo: help.senate.gov)
By Annie Waldman, ProPublica
The head of troubled for-profit college watchdog, Accrediting Council for Independent Colleges and Schools, has stepped down, the agency said Monday in a statement.
The resignation of Albert Gray, who served as ACICS' president and chief executive officer for the past seven years, comes at a precarious time for the accreditor.
Last week, a dozen state attorneys general called on the Department of Education to revoke the accreditor's recognition. Without recognition, the hundreds of mostly for-profit colleges that the accreditor oversees could lose access to the federal student aid that makes up the majority of their revenue.
Citing ProPublica's reporting, the state attorneys general said that the actions of the agency had "ruined the lives of hundreds of thousands of vulnerable students whom it was charged to protect." Our reporting found that students at colleges accredited by ACICS were far worse off than students at other schools.
The accreditor did not provide a specific reason for Gray's departure.
During a Senate hearing last summer, Sen. Elizabeth Warren, D-Mass, slammed Gray for ACICS' involvement in propping up for-profit college chain Corinthian Colleges amid widespread allegations of fraud, misrepresentation and predatory lending.
"How many federal and state agencies need to file lawsuits against one of your colleges before your organization takes a second look at whether that school should be eligible for accreditation, and most importantly, federal money?" she demanded.
Gray told the committee that the investigations into Corinthian were only allegations. "All of these investigations that you've mentioned are just that: investigations," said Gray. "Without outcomes from these investigations, we don't have any evidence to take any kind of action."
In their letter last week, the state attorneys general also expressed concern about the composition of ACICS' board and committees, saying that its leadership raised "serious questions about potential conflicts of interests and therefore ACICS' ability to impartially evaluate those and other schools."
As ProPublica has reported, at least two-thirds of ACICS' commissioners since 2010 have worked as executives at for-profit colleges while sitting on the council. And at least one-third of the commissioners came from colleges that faced heightened scrutiny, including investigations by state attorneys general and federal financial monitoring.
"This Council takes the concerns raised by a variety of external stakeholders very seriously," said Lawrence Leak, the chair of the board of directors, in a statement. "The assurance of quality and integrity of private post-secondary education by ACICS will become stronger and more effective in light of these concerns."
A Department of Education committee is slated to review ACICS' accrediting status in June.
To Learn More:
Head of Accreditor for For-profit Colleges Leaves Amid Growing Scrutiny (by Annie Waldman, ProPublica)
Dept. of Education Routinely Failed to Fully Investigate Misconduct at For-Profit Colleges (by Jeff Horwitz, Associated Press)
85,000 More Ripped-Off Corinthian Students Can Dump Their Loans (by Ken Broder, AllGov California)
U.S. Pays Millions Every Month to For-Profit Colleges Accused of Fraud (by Noel Brinkerhoff, AllGov)
Brown Vetoes Bill to Help Students Ripped Off by Shuttered Corinthian Colleges (by Ken Broder, AllGov California)
Education Dept. Approves Sale of Failing For-Profit Colleges to Debt Collection Company (by Noel Brinkerhoff, AllGov)