Dept. of Education Routinely Failed to Fully Investigate Misconduct at For-Profit Colleges
Wednesday, April 13, 2016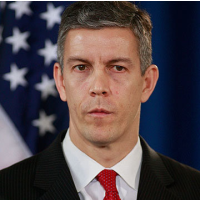 Secretary of Education Arne Duncan (photo: Scott Olson, Getty Images)
By Jeff Horwitz, Associated Press
WASHINGTON (AP) — Education Department reviewers found in 2013 that a major for-profit college chain had systematically raised students' tuitions without properly telling them.
As a result, the U.S. government demanded a refund — but only for the handful of students whose records had led to the discovery. Though the company's schools had more than 100,000 students, reviewers never investigated further.
That Education Department's review — of Corinthian Colleges Inc. — was one case in which the government failed to identify widespread misconduct at Corinthian, which failed at the end of 2014 amid allegations of shoddy education and dodgy financial practices. Though that outcome was unusually bad, a new report by the Center for American Progress, a Washington public policy organization, concluded that flaws in the government's oversight of student aid were routine.
The report, "Looking in All the Wrong Places," was based on more than 6,000 pages of the government's own reviews, obtained under the U.S. Freedom of Information Act. The authors — who include former Education Department officials — conclude that the government's reviews were understaffed and too narrowly focused, failing to identify misconduct already publicly documented.
With a portfolio of more than $1 trillion, the Education Department is among the largest consumer lenders in the United States.
"Neither the Corinthian reviews, nor those of other schools, were designed in a way that would capture evidence that a school is lying to or misleading students, failing to counsel them about their aid, or otherwise behaving in ways that lack integrity," the report said.
The Education Department said the report did not reflect more recent improvements.
"Already this year, we have denied the recertification of several institutions which misrepresented themselves to students and taxpayers alike," Education Department spokeswoman Dorie Nolt said in a statement. "But we know we must do more end predatory practices that harm students."
The government cited its creation of a federal student aid enforcement unit. It is overseen by Jim Runcie, a former UBS investment banker who is the chief operating officer of the U.S. Office of Federal Student Aid, a semi-autonomous arm of the Education Department that is supposed to act more like a private business.
The Education Department inspector general faulted the enforcement unit earlier this year for botching statistical reviews of student loan servicing — and then misleading the public about the frequency of errors by firms handling loans to members of the military.
Runcie declined to answer questions from The Associated Press, but he said at a February press conference that the new investigatory unit would have a broader scope. The government can obtain records under subpoena from the schools it oversees, Runcie said, but it never had issued subpoenas.
"We haven't leveraged that," he said. With new enforcement staff, "we can get a more investigative skill set."
The new oversight report noted that the schools' own audits tend not to identify misconduct or financial mismanagement.
"In almost every case we reviewed, the auditor did not identify any major problems," the report said, after a review of 121 compliance audits.
It said the reviews were "focused on narrow and minor issues," such as the date loan funds were disbursed. The reviews did not focus on problems posing a greater risk to students and the government, such as a 44 percent default rate at one for-profit college on federal Perkins Loans, low-interest loans for poor students.
The Education Department conducts its own program reviews at 5 percent of all colleges each year. But that allows government inspectors to spend just one week on each campus, the report said.
To Learn More:
Looking in All the Wrong Places: How the Monitoring of Colleges Misses What Matters Most (by Robert Shireman, Elizabeth Baylor and Ben Miller, Center for American Progress)
85,000 More Ripped-Off Corinthian Students Can Dump Their Loans (by Ken Broder, AllGov California)
U.S. Pays Millions Every Month to For-Profit Colleges Accused of Fraud (by Noel Brinkerhoff, AllGov)
Brown Vetoes Bill to Help Students Ripped Off by Shuttered Corinthian Colleges (by Ken Broder, AllGov California)
Education Dept. Approves Sale of Failing For-Profit Colleges to Debt Collection Company (by Noel Brinkerhoff, AllGov)