Carmakers' Auto Defects Lead to Reversals of Vehicular Manslaughter Convictions
Thursday, September 10, 2015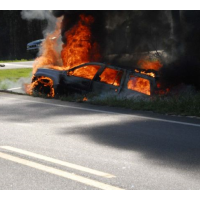 Jeep Grand Cherokee after being struck from behind by a pickup truck (photo: U.S. Dept. of Transportation)
Some drivers convicted of vehicular manslaughter are seeing their sentences overturned when courts find faulty equipment to be responsible for accidents or their consequences.
Corporate Crime Reporter reported on three examples of convictions being overturned after judges took into account manufacturers' defects.
LaKisha Ward-Green of Pennsylvania had her involuntary manslaughter conviction reversed by a judge who found a faulty General Motors ignition switch contributed to her accident that killed her boyfriend.
Candice Anderson pleaded guilty to criminally negligent homicide eight years ago after her boyfriend, Gene Mikale Erickson, died while she was being the wheel of another GM car with a faulty ignition switch. Her conviction was also cleared. GM knew of the problem before Anderson's plea, but kept it a secret.
The third case involved a 1996 Toyota Camry driven by Kuoa Fong Lee, whose 2007 accident killed three people. Lee was sentenced to eight years in prison. She had served two years when her conviction of vehicular homicide was tossed out after Lee's lawyers argued the car suddenly accelerated and Lee couldn't stop it.
"The cases are just the latest example of the double standard that prevails between street and white collar crime," Rena Steinzor, author of "Why Not Jail? Industrial Catastrophes, Corporate Malfeasance, and Government Inaction," told Corporate Crime Reporter.
Another case, in which Bryan Harrell, who hit a Jeep Grand Cherokee, causing a fire that killed a 4-year-old in the Jeep, could be the next to be overturned. The Jeeps' gas tanks were located behind the rear axle in the vehicles, making them more likely to explode in a rear-end collision. Harrell is currently serving a 15-year sentence for vehicular homicide.
- Steve Straehley, Noel Brinkerhoff
To Learn More:
Vehicular Homicide and Manslaughter Convictions Being Reversed as Drivers Blame Corporations for Auto Defects (Corporate Crime Reporter)
Survivors of Victims of Faulty GM Ignition Switches Face Difficulties Finding Lawyers to Take their Cases (by Noel Brinkerhoff, AllGov)
Delays and Mismanagement of GM Recall Repairs Result in More Motorist Deaths (by Noel Brinkerhoff and Steve Straehley, AllGov)