Big Banks Increasingly Use Fine-Print Arbitration Clause to Bar Customer Lawsuits
Thursday, August 18, 2016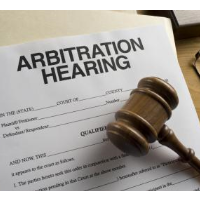 (photo: Kirby Hamilton, Getty Images)
By Ann Carrns, New York Times
Big banks are increasingly using the fine print of checking account agreements to restrict their customers' ability to settle disputes in court, even though most consumers want to keep their legal options open.
Over the last four years, the share of 29 big banks that use so-called mandatory binding arbitration clauses has risen to 72 percent from 59 percent, according to an analysis released Wednesday by the Pew Charitable Trusts.
And of a larger pool of 44 large banks analyzed this year, almost three-fourths used the clauses, Pew found.
Such clauses require customers to settle disagreements through a private arbitration process, rather than in a court. Most of the banks also include language that bars customers from taking part in class-action lawsuits, which allow them to join together in legal action that would be too costly or time-consuming to pursue individually.
"People won't act on their own if it doesn't make sense to do so," said Thaddeus King, an officer with Pew's consumer banking project, in a call to discuss the findings with reporters.
As a result, consumers don't have much recourse if their disagreement involves a relatively small amount of money per customer, even if a large number of customers is affected. "It's just not going to be worth the payoff," he said.
An investigative series by The New York Times found that between 2010 and 2014, only 505 consumers went to arbitration over a dispute of $2,500 or less.
Yet customers overwhelmingly say they want to keep the right to sue their bank. In a survey conducted for Pew in November, 95 percent of consumers said they wanted to maintain their right to have disagreements heard in court, and about 90 percent said they wanted the right to join class-action lawsuits against their banks. Support for joining class actions was strong among people of all incomes and political bents.
"There is a disconnect between what banks are doing," King said, "and what consumers want."
Despite wanting to maintain legal options, however, fewer than a quarter said they would take legal action against their bank in a dispute over fees. Three-quarters said they would speak to a manager, and just 38 percent said they would close an account in protest.
King said the findings suggest that people consider it difficult to close an account, and that customers are unsure if they will be treated any differently at another bank.
(The telephone survey conducted Nov. 24-29, which questioned 1,008 people, has a margin of sampling error of plus or minus 4 percentage points.)
The Consumer Financial Protection Bureau last year issued a detailed report on arbitration clauses, and it has proposed a rule that would ban such clauses for bank accounts.
The agency is accepting public comments on the proposal until Monday.
More than 2,000 comments have already been submitted online. Many people are opposed, on the grounds that the new rule would mostly benefit class-action lawyers. ("Please stand up for me," one said, "not the trial lawyers.") But many others voiced support. "In recent years," one couple wrote, "large corporations have converted the fine print in consumer contracts into an effective license to steal."
Another letter, submitted by a group of about 200 law professors, supported the proposed rule as an important consumer safeguard. Binding arbitration, they said, amounts to "bullying" of people who can't successfully compete on their own with large, financially powerful corporations.
"I'm hopeful the rule will go into effect as written," said F. Paul Bland Jr., executive director of Public Justice, a public interest law group.
Here are some questions and answers about binding arbitration clauses:
Q: How can I comment on the rule proposed by the Consumer Financial Protection Bureau?
A: Comments can be made until Aug. 22 on the Federal Register website.
Q: What sort of contracts would be covered by the proposed rule?
A: The rule would cover checking accounts, credit cards and other types of consumer loans that fall under the bureau's authority. (The use of arbitration clauses in mortgages is already prohibited by the 2010 Dodd-Frank Act (pdf).) It wouldn't affect other types of agreements, like those for cellphone service or nursing home contracts, according to the National Consumer Law Center.
Q: When would the new rule take effect?
A: After taking the public comments into account, the bureau is expected to issue a final rule, which would take effect seven months later. So any changes probably won't be official until next spring at the earliest.
To Learn More:
Consumers Want the Right to Resolve Bank Disputes in Court (Pew Charitable Trusts)
Banks to Soldiers: Thanks for Serving your Country; Now Give us your Car…The Mandatory Arbitration Trick (by Noel Brinkerhoff and Steve Straehley, AllGov)
Supreme Court Supports Companies Forcing Arbitration as Alternative to Class Action Suits (by Matt Bewig, AllGov)
Corporate Block on Supreme Court Limits Class Action Suits (by Noel Brinkerhoff and David Wallechinsky)