Banks to Soldiers: Thanks for Serving your Country; Now Give us your Car…The Mandatory Arbitration Trick
Wednesday, March 18, 2015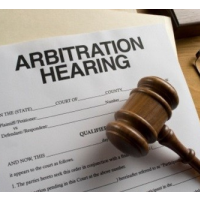 (photo: Getty Images)
Those in the U.S. military are supposed to have some protection from financial problems, such as auto repossession, while serving. But many financial institutions, including some that claim to have service members' best interests at heart, have gotten around federal restrictions by using binding arbitration clauses in sales contracts that deny customers, including members of the armed forces, the right to fight their case in the court system and force them into hearings that are stacked in favor of lenders.
In general, federal law requires that lenders must get a court order before repossessing a car owned by an active duty service member. However, sales contracts often contain arbitration clauses in the fine print. They can specify that the lender may choose the arbitrator and the site of the hearing, often on the other side of the country from the service member's base. Arbitrators' decisions are usually final and hidden from public view.
John Odom Jr., a retired Air Force lawyer now practicing law in Louisiana, told The New York Times about legal protections for service members that "mandatory arbitration threatens to take these laws and basically tear them up" unless something is done by Congress. But lawmakers have yet to embrace legislation that would allow service members to opt out of arbitration because the financial industry, which contributes millions to members of Congress, has lobbied hard to prevent new laws from being adopted. Some believe that if members of the armed forces get relief from onerous arbitration clauses, members of the general public will realize that they too are getting the short end of the stick when it comes to dealing with big corporations.
"If you admit that these are bad for the military, then it follows that they are bad for consumers much more broadly," Deepak Gupta, a lawyer in Washington who has represented consumers in cases about arbitration before the U.S. Supreme Court, told the Times.
Kevin Carroll, a managing director and associate general counsel at the Securities Industry and Financial Markets Association, said in a statement his organization saw no need for new federal restrictions on the banking industry due to a lack of "empirical or other evidence that service members are being harmed by or require relief from arbitration clauses."
However, the Government Accountability Office reported that in 2012 "financial institutions had failed to abide by the law more than 15,000 times," according to Jessica Silver-Greenberg and Michael Corkery at the Times.
Even financial giant USAA, which sells products only to members of the military and their families, has joined the parade of corporations that slip arbitration clauses into their finance contracts.
-Noel Brinkerhoff, Steve Straehley
To Learn More:
Failed by Law and Courts, Troops Come Home to Repossessions (by Jessica Silver-Greenberg and Michael Corkery, New York Times)
'Whimsy Little Contracts' with Unexpected Consequences: An Empirical Analysis of Consumer Understanding of Arbitration Agreements (by Jeff Sovern, Elayne E. Greenberg, Paul F. Kirgis and Yuxiang Liu, St. John's Legal Studies Research Paper)
Armed Forces and Forced Arbitration (Public Citizen)
Supreme Court Supports Companies Forcing Arbitration as Alternative to Class Action Suits (by Matt Bewig, AllGov)