Appeals Court Panel, 2-1, Rules Catholic Company Doesn't Have to Provide Contraception for Employees
Wednesday, January 02, 2013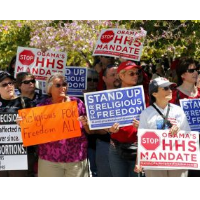 Contraception insurance protest (photo: Matt York, AP)
For the first time, an appellate court has ruled against a new federal rule requiring employers to provide contraception coverage to workers as part of the healthcare reform law.
Included in the Patient Protection and Affordable Care Act (pdf) is a section mandating most businesses to offer employees insurance coverage for contraceptive drugs and devices and other birth control methods.
More than 40 lawsuits have been filed by opponents of the requirement, including one from the construction firm Korte & Luitjohan Contractors, whose owners, Cyril and Jane Korte, objected to the rule based on their Catholic beliefs.
Their challenge made its way to the Seventh Circuit Court of Appeals in Chicago, where a three-judge panel ruled 2-1 to temporarily bar the U.S. government from forcing the plaintiffs to pay for contraception coverage.
Two of the judges agreed with the Kortes, who argued that the law violates their First Amendment rights and the federal Religious Freedom Restoration Act (pdf). "The Kortes would have to violate their religious beliefs to operate their company in compliance with [the contraception mandate]," stated the order.
The dissenting judge—Ilana Rovner, a George H. W. Bush appointee—argued that the Kortes were "multiple steps" removed from the contraceptive services, since it would be the employee, her doctor and the insurance company who would be involved in funding decisions for such services.
The case is not over and is expected to continue in the Seventh Circuit.
-Noel Brinkerhoff, Danny Biederman
To Learn More:
Employer Wins Relief from U.S. Contraceptives Mandate (by Jonathan Stempel, Reuters)
Citing Citizens United, Federal Appeals Court Blocks Access to Birth Control (by Ian Millhiser, Think Progress)
Court Order: Cyril B. Korte vs. U.S. Department of Health and Human Services (pdf)
Rep. Issa Opens Hearing about Contraception Coverage with All-Male Panel (by Matt Bewig, AllGov)
Obama Administration Orders Insurers to Cover Contraceptives (by Matt Bewig, AllGov)
Pennsylvania University Offers Morning-After Pills in Vending Machine (by Matt Bewig, AllGov)