AP and Reporters Committee Sue FBI for Release of Records about Impersonating Journalists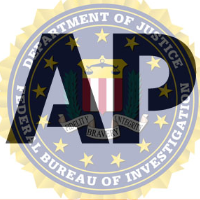 (graphic: Steve Straehley, AllGov)
A journalists' group and a news service are suing the Justice Department and the Federal Bureau of Investigation (FBI) to release details about how the FBI has impersonated members of the news media.
It was discovered last year that the FBI had published a fake news story, purportedly from the Associated Press, in 2007 in order to entice a suspect to download it so the bureau could put surveillance software on his computer. The AP and the Reporters Committee for Freedom of the Press filed a Freedom of Information Act request to learn more about the FBI's impersonation of journalists. None of the requests have been answered, so AP and the Reporters Committee are suing (pdf) for the documents.
"We cannot overstate how damaging it is for federal agents to pose as journalists," Reporters Committee Litigation Director Katie Townsend said in a release. "This practice undermines the credibility of the independent news media, and should not be tolerated. Yet while the public clearly has a strong, compelling interest in knowing more about the FBI's use of this tactic, the FBI seems determined to withhold that information. We have been left with no choice but to look to the court for relief."
The fake story, "Bomb threat at high school downplayed by local police department" was released on the Internet with the AP logo. The article, however, originated in the FBI's Seattle field office. The sting resulted in the arrest of a 15-year-old who had made threats against a high school.
-Steve Straehley
To Learn More:
Reporters Committee, AP Sue for Records About FBI's Impersonation of Journalists (Reporters Committee for Freedom of the Press)
Reporters Committee and AP vs. Department of Justice and Federal Bureau of Investigation (pdf)
Media Credibility Threatened by FBI Falsification of AP News Story to Locate Bomb Suspect (by Noel Brinkerhoff, AllGov)