Animal and Plant Inspection Service Finally Proposes Stricter Regulation of Genetically Engineered Wheat
Sunday, September 27, 2015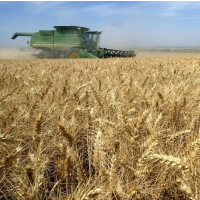 (photo: Bob Brawdy, AP Photo)
The U.S. Department of Agriculture (USDA) has decided it's better for growers of genetically engineered wheat to ask permission, rather than forgiveness.
Rogue plantings of genetically engineered (GE) wheat were found in two states where they weren't expected to be in 2013 and 2014. As a result, the USDA's Animal and Plant Health Inspection Service (APHIS) is requesting comments on a proposal to force companies to obtain permits for testing genetically engineered wheat, rather than simply notifying the agency that it's doing so, according to Ramona Young-Grindle of Courthouse News Service.
"Permits impose restrictions on movement and planting to prevent escape of plant material that may pose a pest risk. Sponsors follow APHIS guidance on testing and movements to ensure that the plant will not damage agriculture, human health, or the environment," according to a report from the Congressional Research Service.
The rogue plantings caused countries including South Korea and Japan to halt imports of all wheat from the United States. Monsanto, which developed the wheat to be used with its Roundup herbicide, paid settlements to farmers and growers' associations for their trouble.
The permitting would give APHIS a way to help ensure genetically engineered crops are grown only where they're supposed to be.
"Genetic engineering is fundamentally different than traditional plant breeding, and it is misleading for the biotech industry to claim otherwise," Ramon J. Seidler, former head of the Environmental Protection Agency's Genetically Engineered Organism Biosafety Program said in connection with a Center for Food Safety suit supporting a Vermont GE labeling law. "It is a novel technology with no history of safe use, and there is no scientific consensus on the safety of GE foods. There is substantial evidence of the environmental degradation that GE crop production causes, particularly when it comes to dramatic increases in pesticide use, since the vast majority of GE crops are engineered to be resistant to or produce pesticides."
-Steve Straehley
To Learn More:
Under Fire, Crop Agency Rolls Out GMO Rule (by Ramona Young-Grindle, Courthouse News Service)
Changes to Requirements for Field Testing Regulated Genetically Engineered Wheat (USDA Animal and Plant Health Inspection Service)
Despite Consumers' Fears, Genetically Modified Crops a Growing Part of Agriculture (by Scott Canon, Kansas City Start)
House Members who Voted to Stop States from Mandating GMO Labeling Received $30 Million from Agribusiness and Food Industries (by Steve Straehley, AllGov)
House Republicans Fast-Track Bill to Prevent States from Labeling GMO Foods (by Noel Brinkerhoff and Steve Straehley, AllGov)
Illegal GMO Monsanto Wheat Appears in Oregon, Leading to Halt of U.S. Wheat Imports in Asia (by Noel Brinkerhoff, AllGov)