Alabama House Speaker Guilty of Violating Ethics Law He Backed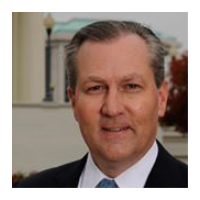 Alabama House Speaker Mike Hubbard (R)
By Kim Chandler, Associated Press
OPELIKA, Ala. — Alabama House Speaker Mike Hubbard's conviction on ethics charges automatically removes him from office and could mean years in prison for the powerful Republican.
Friday night, a jury found the one-time GOP star guilty of 12 counts of public corruption for using the influence and prestige of his political stature to benefit his companies and clients. He faces up to 20 years in prison for each count.
The jury, which reached the verdict after nearly seven hours of deliberation, acquitted Hubbard on 11 other counts.
The conviction comes amid a season of scandal that has engulfed Republicans at the helm of Alabama's legislative, judicial and executive branches of government. Chief Justice Roy Moore faces possible ouster from office over accusations that he violated canons of judicial ethics during the fight over same-sex marriage. And Gov. Robert Bentley has faced calls for his impeachment after a sex-tinged scandal involving a former top aide.
"We hope this verdict tonight restores some of the confidence in the people of the state of Alabama that public officials at all levels in the state of Alabama will be held accountable for their actions, especially those that would betray the public trust," said W. Van Davis, the acting attorney general in the case.
Hubbard, 54, spoke briefly with his attorneys before being escorted from the courtroom and to the Lee County jail, a detention center not far from Mike Hubbard Boulevard named for him. He was released on $160,000 bond and driven away by a bail bondsman as he held his face in his hand.
One of Hubbard's defense attorneys said they plan to appeal.
"We're very disappointed with the verdict. We plan on appealing. I feel like I let my client down. We feel confident we will prevail in the outcome," defense lawyer David McKnight said.
In a twist of political irony, Hubbard was convicted under an ethics law he once championed.
He was the general who led Republicans' 2010 offensive to win control of the Alabama Legislature for the first time since Reconstruction. The campaign focused on ending corruption in Montgomery after a series of indictments and investigations involving Democrats. After the victory, Hubbard was elected speaker and the new GOP-controlled legislature approved revisions to the state's ethics law in a special session called by the governor.
The jury convicted Hubbard on charges that he used his office to solicit consulting contracts from several companies and then taking action to benefit them. The panel also convicted Hubbard, closely associated with the business wing of the state GOP, on charges that he asked four corporate executives to make $150,000 investments in his debt-ridden printing companies.
Jurors acquitted him of using his former position as party chairman to steer business to his companies. They also acquitted Hubbard on a charge that he solicited former Gov. Bob Riley — a man Hubbard described as a father figure — for employment.
Prosecutors and defense lawyers in closing arguments gave jurors dueling portraits of Hubbard.
"This man right here loved power. I think you could sense that through his testimony. It was all about power and it was all about greed," Davis told jurors in closing arguments. "It was never enough for Mike Hubbard."
Defense lawyer Bill Baxley, a former Democratic attorney general in Alabama, told jurors the charges brought by the attorney general's office against Hubbard were "flimsy" and "absurd."
"What you heard from that witness stand is not proof beyond a reasonable doubt that Mike Hubbard did anything," Baxley said. "He didn't use his office in any shape, form or fashion to try to get hired."
Sentencing is set for July 8.
To Learn More:
Top Three Republican Leaders in Three Branches of Alabama Government Embroiled in Scandal or Wrongdoing (by Jay Reeves, Associated Press)
Supreme Court Votes 5-4 that Alabama's Redistricting is Unfair to Black Voters (by Steve Straehley, AllGov)
Grand Gesture from Alabama Governor to Open DMV Offices 1 Day per Month Does Little to Quell Voter Outcry over Closures (by Noel Brinkerhoff and Steve Straehley, AllGov)