Grand Gesture from Alabama Governor to Open DMV Offices 1 Day per Month Does Little to Quell Voter Outcry over Closures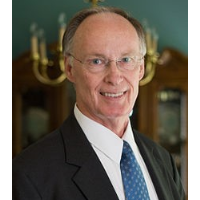 Gov. Robert Bentley
In response to national criticism over the closure of DMV offices in predominantly black counties, Alabama's Republican governor, Robert Bentley, announced the 31 offices will reopen—one day a month.
The Republican plan to shutter the offices, where voters obtain the most commonly used form of identification under new voting laws, has been blasted by Democrats and civil rights advocates. They argue the move was made to help disenfranchise minority voters who tend to vote Democratic in elections. Of the 10 Alabama counties with the highest percentage of non-white registered voters, eight had their license offices closed and they were closed in every county in which African-Americans make up 75% or more of registered voters.
Bentley's decision to reopen the 31 offices once a month did little to quell complaints. "Alabama cannot require photo identification for voting and then make decisions to close DMV offices in communities that are disproportionately African American, rural, and low income," Democratic Representative Terri Sewell said in a statement.
Alabama's director of elections, Ed Packard, told ThinkProgress voters can also go to the Board of Registrar's office in their county, or visit the mobile unit that travels around the state processing voter IDs.
However, the registrar offices have no evening or weekend hours for people who work full-time or multiple jobs, and the mobile units visit just one county per day and are open for only two hours at a time. Only 29 IDs have been issued by the mobile unit this year, according to Talking Points Memo, leaving only about 249,971 Alabamans without the form the GOP-dominated government says they need to exercise their right to vote.
-Noel Brinkerhoff, Steve Straehley
To Learn More:
Alabama Addresses Voter Suppression Accusations by Keeping Rural DMVs Open One Day A Month (by Alice Ollstein, ThinkProgress)
Feds Called to Investigate Alabama DMV Closures in Latest Voter ID Debacle (by Rebecca McCarty, TakePart)
Federal Prosecutor on DMV Closures: Alabama Legislature Threw ALEA 'Under the Bus' in Budget (by Kent Faulk, AL.com)
Alabama, a Voter ID State, Closes Driver License Offices in Heavily Democratic Counties (by Steve Straehley, AllGov)
Are "Free" Voter IDs Not Really Free for the Poor and Elderly? (by Noel Brinkerhoff, AllGov)