Breast Milk for Sale versus Breast Milk Banks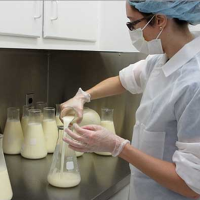 Breast milk being processed at a milk bank (photo: Mothers' Milk Bank of New England)
Breast milk has become a hot new commodity in the United States, pitting the profit-oriented biotechnology industry against nonprofit breast milk banks.
One biotech company, Prolacta Bioscience, is offering mothers cash incentives to donate their extra breast milk to its laboratory, where a new generation of medical therapies are being developed from what some call "white plasma."
Prolacta takes the breast milk it receives and turns it into "a high-protein product fed to extremely premature babies in neonatal intensive care units, at a cost of thousands of dollars a baby," Andrew Pollack reported at The New York Times.
The company sells the product at $180 an ounce, which means one premature baby can easily consume $10,000 worth over several weeks—a cost paid by insurance companies or hospitals.
Prolacta is also working on other products using breast milk that might be able to treat intestinal or infectious diseases in babies and possibly in adults.
But these efforts mean less breast milk is made available to nonprofit milk banks.
"The competition comes in the form of how much surplus breast milk is there in the country and who's getting it," Kim Updegrove, executive director of the nonprofit Mothers' Milk Bank at Austin, told the Times. "The nonprofit milk banks have a long history of providing milk to the sickest babies, and provide it based on medical need and not on insurance reimbursement or financial resources."
So far, comparing banks to for-profit firms, the amount of breast milk changing hands gives the banks a slight edge. But the balance could shift as more and more for-profit breast milk operations are launched. The lure of cash for milk may begin to drain the resources of milk banks, which don't pay mothers for their contributions. Last year Prolacta processed 2.4 million ounces of human milk and expects to reach 3.4 million this year. In 2013, 3.1 million ounces were handled by the 18 nonprofit milk banks that hold membership in the Human Milk Banking Association of North America, reported the Times' Pollack.
Some who are opposed to paying mothers for their breast milk believe that perhaps these women should donate their milk out of the goodness of their hearts. Opponents have expressed concern that "breast milk farming" could have dire consequences that come from greedy moms doing unscrupulous things in order to increase profits. Those actions, they say, could range from diverting milk from their own babies to make more sales, mixing cow milk into their own in order sell a greater amount, or selling milk that is unsafe as a result of health problems that the mother fails to disclose.
-Noel Brinkerhoff, Danny Biederman
To Learn More:
Breast Milk Becomes a Commodity, With Mothers Caught Up in Debate (by Andrew Pollack, New York Times)
The Rise of Big Breast Milk: A Boon for Healthy Babies or Exploitative of Low-Income Mothers? (by Katie McDonough, Salon)