ACLU Sues Biloxi, Mississippi, over Debtors' Prison
Thursday, October 29, 2015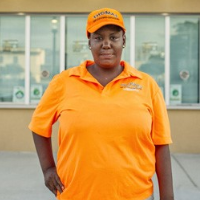 Qumotria Kennedy (photo: ACLU)
The American Civil Liberties Union (ACLU) has filed suit (pdf) to stop a Mississippi city from running a debtors' prison for the benefit of private probation companies.
Poor people, including the homeless and disabled, who have been convicted of traffic and other minor offenses in Biloxi have found themselves jailed when they are unable to pay fines and fees charged by private probation companies. The practice was ruled unconstitutional in 1983 by the U.S. Supreme Court, but it persists in some jurisdictions around the country, including Biloxi.
Those who are fined and who can't afford to pay are put on payment plans that include a monthly $40 fee to a private probation company. If the defendants are still unable to pay, they're jailed.
It's a "jailhouse shakedown…a debtors' prison from the dark ages," ACLU attorney Nusrat Choudhury told The Guardian.
"It's a perverse system that means poor people are ultimately required to pay more than people of means who can pay on time," she told The Clarion Ledger in Jackson, Miss. "It also requires them to report to probation. Probation companies should really not be in the business of collecting debts from people, and if they are, they need to be sure it respects their constitutional rights, and that's not the case in Biloxi."
Between September 2014 and March 2015, at least 415 Biloxi citizens were jailed due to their inability to pay fines, according to the ACLU complaint.
The lead plaintiff in the class action suit, Qumotria Kennedy, made $9,000 a year as a cleaner at the MGM Park baseball fields. With two daughters, that put her far below the poverty line. Nonetheless, when she was found to have been unable to pay $400 in back traffic fines—which had grown to more than $1,000 after the probation company fees were added in—she was jailed for five days. During most of that time she was not allowed to tell her children where she was, and when she didn't show up for work, she was fired from her job.
"As a single mother struggling to provide for myself and my child, being jailed for not having money was devastating. I hope others don't have to suffer or be mistreated this way simply because they are poor. It's just not right," Kennedy said in an ACLU report.
It's not uncommon for defendants to lose their jobs while they're in jail, thus making it even more difficult to pay.
Judges are supposed to offer community service to those unable to pay fines, but they don't. In one case described in the suit, a woman asked for community service several times but was told by Court Programs, the private probation company, that is wasn't an option until she'd been on probation for at least three months. She was also told she would owe $20 per probation visit even if she received community service, the suit said.
-Steve Straehley
To Learn More:
Kennedy v. City of Biloxi (American Civil Liberties Union)
ACLU: Biloxi Runs Debtors' Prison (by Mollie Bryant, Clarion-Ledger)
Pay Up or Go to Jail: How a Mississippi Town Resurrected the Debtors' Prison (by Ed Pilkington, The Guardian)
Criminalizing Blackness: A Mississippi Community College's School-to-Jail Pipeline (by Dara
Cooper, Truthout)
Debtors' Prisons may be Illegal, but they still Exist in Texas and Washington (by Noel Brinkerhoff, AllGov)
Stealth Return of Debtors' Prison in Ohio (by Noel Brinkerhoff, AllGov)
Supreme Court Takes a Step Closer to Debtors' Prison (by Noel Brinkerhoff, AllGov)