Stealth Return of Debtors' Prison in Ohio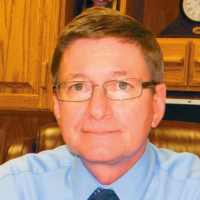 Judge John Ridge (photo: Norwalk Reflector)
Local courts in Ohio, where poverty has been on the rise, are increasingly throwing people in jail for being unable to pay fines, according to a new report from the American Civil Liberties Union of Ohio (ACLU).
Today, more than 16% of Ohioans live in poverty, up from 10% in 1969. With this increase in poverty has come a return of debtors' prisons, a term used to describe individuals who wind up behind bars for simply not having the money to pay court fines.
The ACLU says it uncovered evidence that courts in seven out of 11 Ohio counties have resorted to debtor-prison punishments.
The worst offenders of this practice were courts in Huron, Cuyahoga, and Erie counties, the ACLU reported, with 22% of all bookings in the Huron County Jail during the middle half of 2012 related to failure to pay fines. Most of these were imposed by Norwalk Municipal Court, under the leadership of Judge John Ridge, who announced his retirement in December 2012, in the midst of the ACLU investigation, but continues to serve.
Ohio's habit of jailing the poor flies in the face of the U.S. Supreme Court, which ruled 30 years ago that it is unconstitutional to imprison debtors because they cannot pay court fines or fees.
"Nonetheless, many courts throughout the state are simply ignoring the law and routinely incarcerating people multiple times for failing to pay their fines," Mike Brickner of the ACLU's Ohio chapter wrote.
Considering that it costs $58 to $65 a night to keep someone in a county jail in Ohio, the practice of incarcerating debtors doesn't even make economic sense.
-Noel Brinkerhoff
To Learn More:
The Outskirts of Hope: How Ohio's Debtors' Prisons are Ruining Lives and Costing Communities (American Civil Liberties Union of Ohio) (pdf)
ACLU of Ohio Claims Poor People Being Unlawfully Jailed for Failing to Pay Court Fines (by James Ewinger, Cleveland Plain Dealer)
Supreme Court Takes a Step Closer to Debtors' Prison (by Noel Brinkerhoff, AllGov)
Debtors' Prisons Make a Comeback…in the U.S. (by Noel Brinkerhoff, AllGov)
Jailed for Debt in the U.S. in the 21st Century (by Noel Brinkerhoff, AllGov)