Female Guards once again Allowed to Touch Guantánamo Prisoners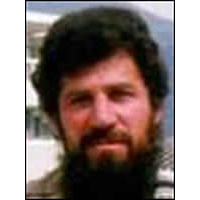 Abdul Hadi al Iraqi (photo: Wikipedia)
Muslim detainees at Guantánamo will once again be subject to being handled by female military guards as they escort them through the prison, despite their objections to being touched by women.
A military judge, Navy Captain J.K. Waits, issued a restraining order last year barring female guards from touching Abd al Hadi al Iraqi (aka Nashwan Abdulrazaq Abdulbaqi),
who cited religious reasons for his request that only male jailers handle him while being moved from his cell to medical or legal appointments.
The issue arose after an October incident in which the U.S. military used both female and male guards to escort Hadi from his cell. Hadi, who is accused of ordering attacks on U.S. and allied forces as commander of al Qaeda's army in Afghanistan, refused to leave his cell because of the presence of women, resulting in the military using a "tackle-and-shackle team" to move him, according to Carol Rosenberg at the Miami Herald.
"If female guards must have physical contact with me to bring me to my meeting or to court, my faith requires me to refuse those movements, and I will continue to refuse them," said Hadi in a written declaration.
Defense attorneys have accused the government of intentionally adding women to the security staff as a way of humiliating the defendants and disrupting their ability to focus on their defense.
A wave of protests erupted when Waits issued the order to bar the female guards from handling the prisoners. The commander of the prison housing unit testified that the ruling would damage the morale of the female staff, and would also put the safety of his operations at risk because removing the women might cause the male guards to bond with the prisoners. Prosecutors objected to Waits' order by insisting it flew in the face of an effort in the military to achieve gender equality.
Prison guards also objected to the ruling, lodging bias complaints against Waits, as well as against a military judge in the trial of the 9/11 defendants who had issued a similar no-touch order. Some of the female guards filed gender discrimination complaints with the military.
Waits finally relented, lifting his restraining order on February 24. But in doing so, he made no reference to the gender-based complaints.
Hadi's Pentagon-appointed defense attorney, Marine Lieutenant Colonel Thomas Jasper, told the Miami Herald that Waits based his decision to lift the order "on a very strict line of case law rather than the Religious Freedom Restoration Act." He added that it is possible his client might again object to being touched by female guards and, if so, he would consider appealing Waits' ruling.
-Danny Biederman, Noel Brinkerhoff
To Learn More:
Navy Judge Lifts Guantánamo Female Guard No-Touch Order (by Carol Rosenberg, Miami Herald)
Gitmo Officer: Limits On Female Guards Put Mission At Risk (by David Dishneau, Associated Press)
Controversy Flares at Guantanamo over Female Guards (by Chantal Valery, Agence France Presse)
Court Rules Judges May Oversee Prison Conditions at Guantánamo, Opening Door to Detainee Lawsuits (by Noel Brinkerhoff, AllGov)