5 States Refuse to Reveal Details of Oil-Train Routes and Volumes; Montana Disagrees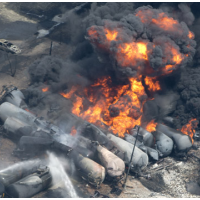 Derailment and explosion of tank cars carrying crude oil in Quebec, 2013 (photo: Paul Chiasson, Canadian Press/AP)
In the wake of recent deadly accidents involving trains carrying crude oil, U.S. regulators ordered railway companies to share information about shipments with state officials. But some states have balked at disclosing this data to the public.
In May, Transportation Secretary Anthony Foxx ordered railroads to provide states with details on train shipment routes and their oil volumes following multiple derailments in parts of the U.S. and Canada. The order applies to trains loaded with a million gallons or more of oil from the Bakken oil fields in North Dakota, Montana, and parts of Canada. The type of oil extracted from Bakken is more volatile than most crude.
But railroads fought the demand, claiming the information should remain classified for business and security reasons. This prompted the U.S. Department of Transportation to issue another ruling, saying oil-train shipment information was not sensitive enough to keep secret at the expense of keeping the public in the dark.
Officials at the Federal Railroad Administration, though, threw a bone to railroads, telling them they could work with state leaders to restrict disclosures. As a result, California, New Jersey, Virginia, Minnesota, and Colorado are not releasing shipment details to the public, as requested by BNSF Railway, CSX, and Union Pacific.
The companies also pressured Montana to restrict the information, but officials there balked at the idea, citing the state's open records law. "Part of the whole reason the federal government ordered that this information be given to states is to protect the communities through which these trains roll," Andrew Huff, chief legal counsel for Gov. Steve Bullock, told The Associated Press. "If there's not some federal pre-emption or specific regulation or statute that prevents release of this information, then under our records laws we have to release it."
Washington state said it will also release the information, but will give the railroads time to challenge its decision. Officials in New York, Wisconsin and North Dakota are evaluating whether the information must be released under their states' open records laws.
The boom in shale oil production in the Upper Midwest and elsewhere has caused the volume of oil shipped by rail to hit record levels this year.
-Noel Brinkerhoff, Steve Straehley
To Learn More:
Details of Oil Shipments by Rail Are Not Security Sensitive and Should Be Released: DOT (Homeland Security News Wire)
Feds: Oil Train Details Not Security Sensitive (by Matthew Brown, Muscatine Journal)
This Is Where Deadly Crude Oil Trains May Be Rolling Through California (by Ken Broder, AllGov California)
Outdated Freight Train Cars Blamed for Explosions…with more to Come (by Noel Brinkerhoff AllGov)