400% Increase in Price of EpiPen Allergy Drug Triggers Price-Gouging Lawsuit amid the Firestorm
Saturday, August 27, 2016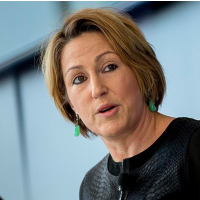 Mylan CEO Heather Bresch (photo: Bloomber/Getty Images)
By Adam Klasfeld, Courthouse News Service
(CN) — Bad news is said to come in threes, but for Mylan Pharmaceuticals, the makers of the anti-allergy drug EpiPens, trouble lately has been brewing in twos.
NBC kicked off of the storm last week with a report that the price of EpiPens — a portable device used to counteract allergic reactions — had jumped 400 percent since Mylan's merger with Dey Pharma in 2007.
The story quickly made strange bedfellows of Sen. Bernie Sanders and the man perhaps most famous for pharmaceutical price-gouging, Martin Shkreli.
Sanders tweeted disgust over the price hike on Aug. 18, and Shkreli called the drug's makers "vultures" a day later.
This week, Sens. Charles Grassley and Richard Blumenthal demanded answers from Mylan Pharmaceuticals CEO Heather Bresch. Sen. Hillary Clinton blasted the price of EpiPens as "outrageous," and Sen. Amy Klobuchar called for an investigation by the Federal Trade Commission.
Six consumers from across the country brought the issue to court Tuesday — filing suit against Mylan in Detroit, Michigan.
"This case seeks redress for defendants' deceptive and unconscionable practice of requiring that EpiPens be sold in sets of two as a pretense for charging unconscionable prices to class members who rely on EpiPens for protection of their life and health," their 23-page complaint states. "In short, defendants are misstating the science of EpiPen dosage in order to purportedly justify its price gouging."
The transition happened five years ago, when Dey Pharma — now known as Mylan Specialty LP — announced it would stop selling EpiPens individually.
"The decision to exclusively offer the EpiPen 2-Pak, which contains two single EpiPen Auto-Injectors, aligns with these guidelines, as well as with the 2011 World Allergy Organization (WAO) anaphylaxis guidelines which recommend that physicians consider prescribing more than one epinephrine auto-injector," Dey said in a statement.
Mylan also justified the change on a study by the National Institute of Allergy and Infectious Diseases (NIAID) calling epinephrine — the active ingredient in the injections — the first line treatment for anaphylaxis, a life-threatening allergic reaction marked by swelling, hives, lowered blood pressure and dilated blood vessels.
NIAID, a division of the National Institutes of Health, recommended but did not mandate prescribing EpiPens two at a time.
The lawsuit notes that several members of NIAID's expert committee received funding from Dey Pharma in the past.
When Mylan switched over to two-packs, "EpiPen was the number one prescribed epinephrine auto-injector with 95 percent of the United States market and 90 percent of the worldwide market," according to the lawsuit.
Anastasia Johnston, a Michigan-based mom leading the class action, insists that the company should have given doctors more choice in their dosage judgments.
"The fact that the single EpiPen packages will be available outside the U.S. shows that Mylan was improperly taking advantage of U.S. patients," the complaint states. "If patient safety was the paramount concern, then Mylan would have stopped production of single EpiPens worldwide."
The lawsuit estimates today's epinephrine autoinjector market at a reported $1.3 billion, with Mylan holding an 85 percent market share with its EpiPen.
Seeking an injuction against limiting the sale of two-packs, the class wants a federal judge to find Mylan in violation of federal and various state consumer-protection laws.
Discussing the case in an interview, the class's attorney said Mylan's behavior is a particular burden on parents, who often have to purchase EpiPens for their children for school and summer camp.
"You're pricing people out because you can, that's what you're doing, on a very necessary product," said Sharon Almonrode, of Rochester, Mich.-based Miller Law Firm.
Since people treated with EpiPens are supposed to seek emergency care after the dose, mandatory "2-Paks" are also unnecessary, Almonrode added.
Mylan has not returned an email or telephone call seeking comment.
The Dutch pharmaceutical giant did today announce an initiative "doubling the eligibility for patient assistance," a move Mylan says will effectively eliminate out-of-pocket expenses for uninsured and underinsured patients.
Shkreli, the face of AIDS drug price-gouging who currently stands accused of criminal securities fraud, tweeted about Mylan today as well.
"With 8% margins, Mylan is close to breaking even," the reputed "Pharma Bro" tweeted. "Do we want them to lose $? Sole supplier of a life-saving drug should have a better margin."
To Learn More:
Drug Industry's Pricey Meds Behind 8.5% Increase in Americans' Prescription Spending (by Linda A. Johnson, Associated Press)
Hedge Fund Ethics Hit Drug Industry as "Rare Disease" Loophole Causes Cost of Medicine to Suddenly Skyrocket (by Danny Biederman and Noel Brinkerhoff, AllGov)
Lawmakers Tentatively Challenge Drug Makers over Outrageous Costs for Medicine (by Noel Brinkerhoff and Danny Biederman, AllGov)
VA Awards New Contract for Useless Drug (by David Wallechinsky, AllGov)