Hedge Fund Ethics Hit Drug Industry as "Rare Disease" Loophole Causes Cost of Medicine to Suddenly Skyrocket
Tuesday, September 22, 2015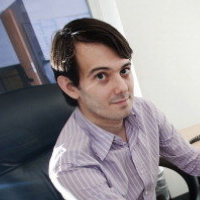 Martin Shkreli (photo: Paul Taggart, Bloomberg via Getty Images)
The cost of the drug Daraprim, used to help kill a common parasite in cancer and AIDS patients with weakened immune systems, has gone up 5000% in price following its acquisition by a hedge fund investor.
In February, former Wall Street investor Martin Shkreli launched Turing Pharmaceuticals, which paid $55 million to Impax Laboratories to buy the rights to Daraprim (generic name: pyrimethamine), a drug that's been around since 1953.
After acquiring Daraprim in August, Shkreli jacked up the drug's price overnight from a per-tablet price of $13.50 to $750. (It sold for $1 per tablet only several years ago.) The move could result in some patients paying hundreds of thousands of dollars a year for the drug.
The controversial Shkreli, who has reportedly been under investigation for securities fraud by federal prosecutors, said he was justified in raising Daraprim's price. The reason, he claimed, is because the treatment is rarely used by patients who suffer from toxoplasmosis—the second-most common food-borne disease which readily strikes people with weakened immune systems. That can include individuals with AIDS, people who have undergone chemotherapy treatment, and even pregnant women.
According to the Centers for Disease Control, about 60 million Americans carry the toxoplasma gondii parasite, which can be acquired from consuming under-cooked meat and unclean water, or from contact with infected cat feces. It produces flu-like symptoms as it attacks the brain, potentially resulting in brain damage or blindness.
Turing's 5,000% price increase could potentially bring the company tens or hundreds of millions of dollars per year in sales, according to The New York Times.
Shkreli defended the mammoth price jump. "This isn't the greedy drug company trying to gouge patients, it is us trying to stay in business," he told the Times. "This is still one of the smallest pharmaceutical products in the world. It really doesn't make sense to get any criticism for this."
Some hospitals may now have difficulty keeping the drug in stock due to its cost, resulting in treatment delays for patients, according to Mount Sinai Hospital's Dr. Judith Aberg. "This seems to be all profit-driven for somebody," she told the Times, "and I just think it's a very dangerous process."
-Danny Biederman, Noel Brinkerhoff
To Learn More:
Company Hikes Price 5,000% For Drug That Fights Complication of AIDS, Cancer (by Christine Rushton, USA Today)
Drug Goes From $13.50 a Tablet to $750, Overnight (by Andrew Pollack, New York Times)
Shkreli's Turing Pharma Banks $90M in a Murky Funding Round (by Damian Garde, Fierce Biotech)
Generic Medicines Used to be Cheap…Not Any More (by Noel Brinkerhoff and Steve Straehley, AllGov)
Lawmakers Tentatively Challenge Drug Makers over Outrageous Costs for Medicine (by Noel Brinkerhoff and Danny Biederman, AllGov)