88,000 Apply to Live in one of 55 Low-Cost Rental Units Tacked on to a High-End New York City Condo Tower
Wednesday, April 22, 2015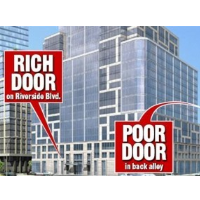 (graphic: Affordable Housing Institute)
To say there is demand for affordable housing in New York City might be the understatement of the year. Fifty-five units reserved for low-income residents have drawn 88,000 applicants.
On the Upper West Side of Manhattan, a new high-end residential tower will include apartments reserved for those earning between of $30,240 and $50,340 a year. The rents for these units will range from $833 for a studio to $1,082 for a two-bedroom.
The building has drawn controversy for its separate entrances, one for the low-income residents and the other for the inhabitants of the remaining condominiums. In fact, the two parts of the building will even have separate street addresses. However, those differences didn't seem to discourage many from applying for one of the affordable dwellings. As of Monday, the deadline for applying, more than 88,000 people had asked for one of the units, according to The New York Times.
"It shows that there's a tremendous demand for high-quality affordable housing in beautiful neighborhoods," Gary Barnett, founder and president of Extell Development Company, the tower's developer, told the newspaper.
The city plans to develop 80,000 new affordable units over 10 years to help more New Yorkers find a reasonable place to live.
City housing officials said 10 lotteries held so far this year for 698 affordable units generated about 486,000 applications.
-Noel Brinkerhoff
To Learn More:
88,000 Applicants and Counting for 55 Units in 'Poor Door' Building (by Mireya Navarro, New York Times)
Affordable Housing for Rent (NYC Housing Connect) (pdf)
How Common are NYC's Poor Doors? (by Julie Strickland, The Real Deal)