U.S. Marshals Service Director Stacia Hylton Resigns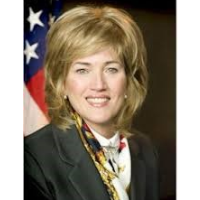 Stacia Hylton (photo: U.S. Marshals Service)
Stacia Hylton, the director of the U.S. Marshals Service whose department has been investigated for its surveillance methods and hiring practices, announced her resignation Tuesday.
Hylton is accused of sending a candidate's resume with her recommendation to a Marshals Service hiring manager for a job despite the lack of required qualifications, including an accounting degree, according to The Wall Street Journal. The hiring manager felt pressure to do as Hylton asked because that person was up for a more senior job in the agency. Hylton's preferred candidate was eventually hired for a job created for that person.
The Marshals Service has also used airborne technology to snoop on cellphone conversations via equipment known as Stingrays, or more colloquially, dirtboxes. These devices mimic a cellphone tower, but capture information about the call. The Marshals Service used the equipment to trace criminal suspects, but calls made by innocent Americans were also swept up. Some in the agency have questioned the legality of the sweeps, according to The Wall Street Journal.
The Marshal's Service is tasked with the apprehension of federal fugitives, operating the Witness Security Program and protection of the federal judiciary.
Sen Chuck Grassley (R-Iowa) has been critical of the agency. Last month, he said in a floor statement that there were "serious questions" about its leadership, including nepotism allegations, punishment of whistleblowers and possibly mishandling funds from its asset forfeiture fund, according to the Associated Press. Grassley had also been looking into the purchase of extravagant office furnishings by the agency. The senator said he would continue to investigate the Marshal Service despite Hylton's departure.
Grassley's actions prompted the Justice Department Inspector General to open its own investigation into the agency last month.
The announcement of the 54-year-old Hylton's retirement said the move had been planned for some time.
-Steve Straehley
To Learn More:
U.S. Marshals Director to Retire (by Devlin Barrett, Wall Street Journal)
Justice Department Alters Response to Congress (by Devlin Barrett, Wall Street Journal)
U.S. Marshals Director Retires Amid Mismanagement Probe (by Maggie Ybarra, Washington Times)
Marshals Service, Under Scrutiny, Losing Chief to Retirement (Associated Press)