U.S. Ambassador to Romania: Who Is Hans Klemm?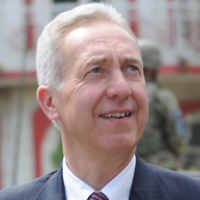 Hans G. Klemm was nominated on March 25, 2015, to be the next U.S. ambassador to Romania. He presented his credentials to Romanian President President Klaus Iohannis on September 21, 2015. It is the second such posting for Klemm, who previously served in Timor-Leste.
Klemm is from Michigan and attended Indiana University, where he earned a bachelor's degree in history and economics in 1980. He joined the Foreign Service the following year.
Klemm's early postings included Port of Spain, Trinidad; Bonn, West Germany; and Seoul, South Korea. He returned to school—this time to Stanford—and earned an M.A. in international development policy in 1996.
By 2000, Klemm was moving up in the State Department and was deputy director of the Office of European Union and Regional Affairs in the Bureau of European and Eurasian Affairs. The following year he was named director of the Office of Agriculture, Biotechnology, and Textile Trade Affairs in the Bureau of Economic and Business Affairs. He took another education sabbatical in 2003 to participate in the Senior Seminar at the Foreign Service Institute. He returned in 2004 as the deputy director, then director of the Office of Career Development in the Bureau of Human Resources.
In 2006, Klemm went overseas again as a minister-counselor in the U.S. embassy in Tokyo. The following year he was named ambassador to Timor-Leste, which won its full independence from Indonesia in 2002. In July 2010, Klemm was sent to Afghanistan as senior coordinator for rule of law and law enforcement at the embassy in Kabul.
He returned to the United States in 2012 as senior coordinator for the Asia-Pacific Economic Cooperation forum in the Bureau of East Asian and Pacific Affairs. In July of that year he was made principal deputy assistant secretary of state in the Bureau of Human Resources, where he was for a time acting director general of the Foreign Service.
Klemm speaks Japanese and German.
-Steve Straehley
To Learn More:
State Department Cables 2002-2009 (WikiLeaks)