Secretary of the Smithsonian Institution: Who Is David Skorton?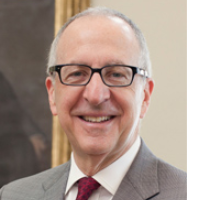 In July 2015, Dr. David J. Skorton, who is currently president of Cornell University, will become the 13th secretary of the Smithsonian Institution, taking over from Wayne Clough. In that role, Skorton will manage the 19 museums and galleries of the Smithsonian, as well as the National Zoo. He'll be the first physician to run the Smithsonian.
Skorton was born November 22, 1949, in Milwaukee. When he was 6, his parents moved to Los Angeles, where his father, who had fled the 1917 Bolshevik Revolution in Russia, owned a shoe store. Skorton began his college career at UCLA, but soon transferred to Northwestern, where he earned a degree in psychology in 1970. He also graduated from medical school in Northwestern in 1974, but returned to UCLA for his residency and a cardiology fellowship in 1978-1979.
In 1980, Skorton joined the faculty of the University of Iowa, where he would remain for 26 years. He held a joint appointment as professor of internal medicine and professor of electrical and computer engineering and of biomedical engineering. In 1992, he was appointed vice president for research and named interim vice president for external relations in July 2000. He was named president of the university in 2003.
Skorton was recruited by Cornell University in 2006 to take over an institution that had been without a permanent leader since its previous president, Jeffrey Lehman, resigned suddenly the year before. He made an immediate impression when he and his wife, Robin Davisson, who's a professor of molecular physiology, moved into the freshman dorm for the first week of his tenure as president. Skorton was able to lead Cornell through the recession and bring in some large donations to the university. He also had to weather a crisis brought on by a student's hazing death. He shook up the campus' Greek system, instituting changes to the pledging process.
Being a physician and running a major institution are apparently not enough to keep Skorton busy. He is also a jazz aficionado (he had a jazz show on an Iowa radio station, and has played flute with Billy Joel and Wynton Marsalis) and has a black belt in tae kwon do. Skorton has also been chairman of the New York Racing Association, the governing body for horse racing in that state. He has said he hopes to keep his medical license current when he becomes secretary of the Smithsonian.
Skorton, who is a vegetarian, has a son from a previous relationship.
-Steve Straehley
To Learn More:
Official Biography (Cornell University)
Smithsonian Regents Name David Skorton 13th Smithsonian Secretary