Secretary of the Navy: Who Is Richard Spencer?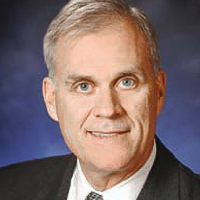 Richard Spencer
President Donald Trump has chosen another money man to lead the Navy. Richard V. Spencer was confirmed as secretary of the Navy by a unanimous vote of the U.S. Senate on August 1, 2017. He succeeds Ray Mabus, who has served since 2009.
Trump's nomination of Spencer was his second try at filling the job, after financier Philip Bilden decided not to serve because of the cost to his portfolio. Given Spencer's wealth, it was not surprising that the Navy Times reported in early May 2017 that he "is also caught up in a mess of financial entanglements that have proved tricky to unwind."
Another potential problem in the run-up to Spencer's confirmation hearing was the hostility of movement conservatives, who criticized Spencer's membership on the board of advisors of the Center for a New American Security (CNAS), a bipartisan foreign policy group that generally takes middle of the road, establishment positions. Spencer's confirmation hearing before the Senate Armed Services Committee had been scheduled for June 22, 2017, but was postponed to August.
Richard Vaughn Spencer was born on January 18, 1954, in Waterbury, Connecticut, the son of Charles Eldridge Spencer III and Catherine (Ahern) Spencer. Spencer, whose father was owner and president of the Delson Hinge Corporation in Wolcott, Connecticut, and grandfather was president and chairman of the First National Bank of Boston, grew up in a privileged environment. He graduated from the exclusive Brooks School in North Andover, Mass., in 1972, and earned a B.A. in Economics at Rollins College in Florida in 1976.
Upon graduation, Spencer joined the U.S. Marine Corps and served until 1981, rising to captain while serving with the Southern California-based 3rd Marine Air Wing as a helicopter pilot.
After leaving the Marine Corps Spencer was vice president of Spirit Airways, which operated a commuter helicopter service called Spirit Heliporter in San Francisco, before heading east to find his fortune on Wall Street.
Spencer worked on Wall Street for 16 years, from 1982 to 1998, at big Wall Street firms including Bank of Boston (his late grandfather's firm), A.G. Becker, Paine Webber, Goldman Sachs, Bear Stearns, Merrill Lynch and Donaldson, where he was a director in the Private Equity Group, and Lufkin, Jenrette, where he was senior vice president in its Private Fund Group.
Spencer was the president of Crossroads Investment Management LLC., a venture capital and private equity fund-of-funds investment firm, from January 1999 to November 2001. He was responsible for private equity partnerships and direct/co-investments. He also was the head of client development activities.
He was vice chairman and chief financial officer of Intercontinental Exchange, Inc., an electronic commodity futures exchange, from November 2001 through January 2008, where he was responsible for the transition of the company from private to public. In January 2007, he became vice chairman of the New York Board of Trade.
Since 2008, Spencer has been the sole proprietor and managing partner of private investment company Fall Creek Management LLC of Wilson, Wyoming, which specializes in capital acquisition and management consulting. He is a director of Global Atlantic Financial Group, which specializes in protecting its clients' "accumulation, income, wealth transfer and end-of-life needs."
At the time of his nomination, Spencer was on the board of directors of eleven other corporations and companies, as well as five non-profits. Spencer is vice chairman of the Marine Corps Heritage Foundation.
Spencer served on the Defense Business Board from 2009 through 2015, and was eventually its vice chairman. In 2010, while at the Board, he proposed saving taxpayer money by closing all 179 commissaries at domestic military bases and outsourcing the stores to private
retail chains like Wal-Mart and Costco. Not only were the chains not interested, but the companies that sell goods to the commissaries objected and contacted members of Congress, who complained to Secretary of Defense Robert Gates…and the proposal was quashed. Spencer also chaired the Board's task force on modernization of the military retirement system.
Since February 2016, Spencer has served on the Chief of Naval Operations Executive Panel.
According to his ethics statement filed with the United States Office of Government Ethics, as secretary of the Navy he would resign from his positions with Global Atlantic Financial Group Limited, CX Technologies LLC, 86 Borders LLC, StarPound Technologies, Inc., ENGAGEcx, Global Atlantic Financial Life Limited, Ariel Re (Holdings) Limited, Commonwealth Annuity and Life Insurance Company, First Allmerica Financial Life Insurance Company, Accordia Life and Annuity Company, Forethought Life Insurance Company and Forethought National Life Insurance Company, as well as the five non-profits.
Spencer contributed to Donald Trump's presidential campaign and, before that, to the campaigns of George W. Bush and Mitt Romney.
Spencer, who resides in Wilson, Wyoming, married Erin Linda Wolf in August 1983. The couple had two children, now adults, Averil and Pierce. Spencer is currently married to Sarah "Polly" Spencer.
-Matt Bewig, David Wallechinsky
To Learn More:
Spencer's Public Financial Disclosure Report
Trump Wants to Grow the Navy, but he Doesn't have his own Navy Secretary to Sell it (by David B. Larter, Navy Times)
Hill Republicans Say They're Growing Frustrated with Mattis (by Eli Stokols and Eliana Johnson, The Hill)