Inspector General of the Department of Defense: Who Is Jon Rymer?
Saturday, September 20, 2014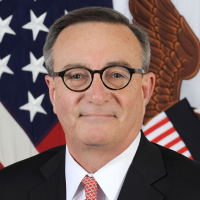 Jon T. Rymer was confirmed by the U.S. Senate as Inspector General of the Department of Defense on September 17, 2013, moving over from a similar post at the Federal Deposit Insurance Corporation (FDIC).
Rymer attended Bearden High School in Knoxville, Tennessee, graduating in 1973. He went on to attend the University of Tennessee in his hometown, earning a B.A. in economics in 1981.
During this period, he also joined the Army Reserve, beginning a long career as a soldier.
Rymer's first job out of college was at First American Bank of Tennessee, working in increasingly responsible management positions, culminating in being named executive vice president. In 1992, he moved into a similar role with Boatmen's Bank of Arkansas. While there, he earned an MBA from the University of Arkansas Little Rock.
In 1997, Rymer moved to accounting firm KPMG as a director. There he worked with clients on business process improvement, quality assurance processes and internal auditing until 2004. At that point, he went on active duty with the Army.
While still serving with the Army, in 2006 Rymer was nominated to be inspector general of the FDIC. He settled down in the job just in time to witness the spectacular financial meltdown of the late 2000s. Rymer was very busy, conducting reviews of scores of banks and being involved in the prosecution of many bank fraud cases. They included the failure of Park Avenue Bank and a $2.9 billion fraud by the chief executive officer of Taylor, Brant and Whitaker, leading to the failure of Colonial Bank. His office also criticized the FDIC for its inaction during the Washington Mutual meltdown.
Just as the bank crisis began to ease, Rymer in 2012 took on additional duties as the interim inspector general for the Securities and Exchange Commission (SEC). There, he looked at record-keeping problems in the SEC in the wake of the Bernie Madoff fraud scheme.
Also, in 2010, as chairman of the Audit Commission of the Council of Inspectors General on Integrity and Efficientcy, he was called in to audit the auditors—investigating the Special Inspector General for Afghan Reconstruction. He found the office was out of compliance with some of its audit policies and recommended corrective action. Rymer maintained the dual roles at the FDIC and SEC until being nominated for the Department of Defense post.
One of his office's more recent tasks is to conduct audits on how funds are accounted for in the Afghan financial system.
Rymer reached the rank of command sergeant major, the second-highest enlisted rank in the Army. He and his wife, Deb, have a son, Thomson. Rymer has made several contributions to political campaigns, all to Republican causes. He gave to the McCain-Palin campaign, the Republican National Committee and earlier to the Bush-Cheney campaign.
-Steve Straehley
To Learn More: