Director of the National Geospatial-Intelligence Agency: Who Is Robert Cardillo?
Saturday, January 31, 2015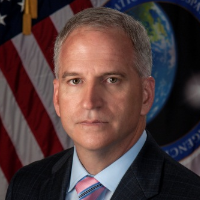 Robert Cardillo took over as director of the National Geospatial-Intelligence Agency (NGA) on October 3, 2014. NGA collects, processes, and dispenses satellite imagery for national security purposes.and analyzes intelligence information through the lens of geography and maps.
It didn't take long in office for Cardillo to be forced to deal with an embarrassing incident when, on January 26, 2015, an NGA employee mistakenly flew a drone onto the White House grounds. On the other hand, shortly after Cardillo took over, the NGA created a website to share images to help track the spread of Ebola in West Africa.
Cardillo is an Army brat; his father Richard is a West Point graduate and rose to the rank of brigadier general. Cardillo went to Cornell, graduating in 1983 with a B.A. in government.
He went to work soon thereafter for the Defense Intelligence Agency (DIA) as an imagery analyst. Instead of being a spy, the early part of his career involved preparing classified items to be burned. He quickly moved up the ranks though, and was trained as a Soviet analyst. In 1988, Cardillo earned an M.A. in national security studies from Georgetown University.
This isn't Cardillo's first stint at NGA. He worked there previously in congressional affairs, public affairs and corporate relations. In 2002 he was named chief of analysis and production, source operations and management.
Cardillo returned to DIA in 2006 as deputy director for Analysis and later as deputy director. In the summer of 2009, he served briefly as acting J2, or intelligence officer, for the Joint Chiefs of Staff, the first civilian to do so.
In 2010, Cardillo was named deputy director for Intelligence Integration for Director of National Intelligence James Clapper. Part of his duties included giving President Barack Obama the President's Daily Briefing (PDB) on intelligence issues. Cardillo was the first to use a computer tablet in the presentation of the PDB.
Cardillo did suffer a minor misstep in that office. As the planning for the apprehension of Osama Bin Ladin progressed, Cardillo was against the mission in the belief that Bin Ladin was not in the Pakistan compound where he was eventually caught.
Cardillo's frequent contact with President Obama was partly responsible for the president recording a video to be played at the ceremony where Cardillo assumed command of NGA from the previous director, Letitia Long.
Cardillo is an avid runner and has competed in several Marine Corps Marathons. That no doubt helps him work off one of his other interests, trying craft beers. Cardillo and his wife, Lori, have three grown children: two sons and a daughter.
-Steve Straehley
To Learn More:
Official Biography (pdf)
Geospatial Intelligence Forum Interview with Robert Cardillo (Office of the Director of National Intelligence)