Director of the National Center for Environmental Assessment: Who Is Kenneth Olden?
Sunday, February 01, 2015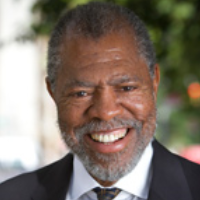 Kenneth Olden was appointed to lead the National Center for Environmental Assessment (NCEA) in the Environmental Protection Agency in July 2012. It was a return to the federal government for Olden, who had previously worked for the National Institutes of Health.
Olden was born July 22, 1938, in Parrottsville, Tennessee, to Mack and Augusta Olden, who at the time were sharecroppers. His father later worked for the Postal Service. Olden attended segregated Tanner High School in nearby Newport, where the school principal inspired Olden to attend college. He shined shoes at the local barber shop to help pay for school.
After graduating from Tanner in 1956, Olden enrolled at Knoxville College, a predominately black institution with an eye toward attending medical school. At the time, African-Americans were forbidden to attend the University of Tennessee (UT) in that city. As a senior at Knoxville, however, Olden was allowed to do some research at UT, but had to take all his classes back at Knoxville. Olden discovered during that period that research, not practicing medicine, was his passion.
After graduating from Knoxville in 1960 with a B.S. in biology and a minor in chemistry, he went to the University of Michigan for its master's program in genetics. Throughout his college experience, Olden missed the experience of African-American mentors in his field because at the time there were few black people engaged in that discipline. He earned his M.S. from Michigan in 1964. He worked for a time at New York's Columbia University for an assistant professor before moving to Philadelphia to attend Temple University. While studying for his Ph.D., he did much of his research at the University of Rochester in New York, but received his doctorate in cell biology and biochemistry from Temple in 1970.
He then went to Harvard Medical School as a postdoctoral fellow and instructor, remaining there until 1974, when he joined the National Institutes of Health's National Cancer Institute in its division of cancer biology and diagnosis as a senior staff fellow. In 1977, Olden was awarded tenure and was made an independent investigator, the first African-American in the cancer institute so named.
In 1979, Olden became associate director for research at the medical school of Howard University, the renowned predominately black college in Washington, D.C. and in 1985 was named chairman of its oncology department. Much of his work there focused on cancers that are more prevalent in people of color.
Olden returned to federal service in 1991 as director of the National Institute of Environmental Health Sciences and the National Toxicology Program in the Department of Health and Human Services. One of the many studies he led was one on the effects of diesel exhaust on children who lived near bus depots in New York City and another involved researching links between cell phone use and cancer.
In 2000, he removed the sweetener saccharin from the list of carcinogens. Olden defended that move, writing, "our understanding of the science has advanced and allows us to make finer distinctions today. Studies now indicate that rat bladder tumors arise from mechanisms that are not relevant to the human situation. In addition, we have decades more data from observations of humans using saccharin that adds to our confidence."
Olden got a measure of payback for having to attend segregated schools and being forbidden to enroll at his home state's largest university. In 2004, the University of Tennessee put him on their short list to be named the school's president. Later, Olden said he wasn't sure he wanted the job, but as he told a City University of New York (CUNY) publication in 2009, "I thought about my parents, who were deceased. If they knew that I had just one iota of a chance to become president of the University of Tennessee and I said no, they would turn over in their graves, so I couldn't say no." Another candidate was eventually chosen for the job.
He left the institute in 2005 and the following year was named Yerby Visiting Professor at the Harvard University School of Public Health. In 2008, Olden was the founding dean of the CUNY School of Public Health, where he remained until assuming his current post.
Olden has been criticized since becoming NCEA director for deferring to industry demands to slow the process that would ban chemicals deemed harmful to humans or the environment. Often the only non-EPA witnesses at some hearings of the Integrated Risk Information System (IRIS), which assesses the risks of chemicals, are chemical industry spokesmen. Michael Walls, a lobbyist for the American Chemistry Council, testified at a House hearing, "You can count me among the fans of Ken Olden."
Olden has encouraged more input from the chemical industry, inevitably delaying the final decisions on whether a substance should be banned. As a result, the EPA has published only four chemical assessments since Olden took charge.
Olden and his wife, Sandra White, an immunologist with whom he has co-authored cancer-related papers, have two sons and two daughters.
-Steve Straehley
To Learn More
Environmental Justice Pioneer Plans Overhaul of Beleaguered Division (Jeremy P. Jacobs, E&E)
A Visionary Man–and Plan (by Neill S. Rosenfeld, City University of New York) (pdf)
Obama's EPA Breaks Pledge to Divorce Politics From Science on Toxic Chemicals (by David Heath, Center for Public Integrity)