Director of the Defense Criminal Investigative Service: Who Is James B. Burch?
Sunday, September 14, 2014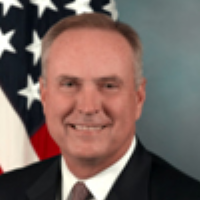 James B. Burch was named the Department of Defense's deputy inspector general for investigations on June 22, 2009, putting him in charge of the Defense Criminal Investigative Service, the agency responsible for investigating fraud, bribery and corruption among Defense Department employees and contractors and stops the transfer of sensitive technology to unfriendly nations.
Burch is from Birmingham, Alabama, where his father, Bill Burch was the basketball coach at Birmingham Southern University for 16 years. Burch played basketball for his father, and became a high school teacher and coach after earning a B.A. in 1973.
Burch joined the Secret Service in 1980 and served 27 years there. His last post was as special agent in charge of the Washington Field Office, where he managed all criminal investigations and protective responsibilities handled by the Service in the Capital area. Prior to that, Burch had been deputy assistant director in the Secret Service's Office of Investigations. One of the major cases handled by his office was the investigation of North Korea's counterfeiting of $100 bills in the mid-2000s.
In October 2007, Burch joined the State Department as its assistant inspector general for investigations. He established Middle East offices in Amman, Jordan and Cairo, Egypt as well as a presence in Baghdad, Iraq, to cope with the influx of Americans in that region.
Burch's wife, Therese, was a member of President George W. Bush's advance team during both his terms and currently is a partner in BB&R Wellness, a consulting firm also partly owned by Bush's sister, Doro Bush Koch.
-Steve Straehley
To Learn More: