Commander, U.S. Special Operations Command: Who Is Raymond A. Thomas III?
Wednesday, January 11, 2017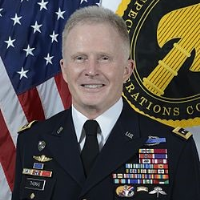 Raymond A. Thomas III
Gen. Raymond A. "Tony" Thomas III, a long-time member of the special operations community, was appointed to command the U.S. Special Operations Command on March 30, 2016.
Thomas was born in Philadelphia on October 6, 1958. He went to the U.S. Military Academy at West Point, graduating in 1980 with a commission as a second lieutenant. Thomas later earned an M.A. in international studies at the Army War College and an M.S. in the same subject at the Naval Command and Staff College.
Thomas was initially with a mechanized infantry unit but soon transferred to the Rangers. He made a combat jump into Grenada in 1983 and another, six years later, into Panama. Thomas then joined Delta Force, the Army's elite special operations unit. He served as troop commander, squadron operations officer, unit executive officer and squadron commander with Delta Force.
In 2000, Thomas took over as commander of a Ranger battalion without having served as a regular infantry battalion commander first, a break with tradition. He took his unit to Afghanistan three months after the 9/11 attacks and, from 2001 to 2013, spent part of every year except one in Afghanistan. Thomas was made director of operations and chief of staff of the Joint Special Operations Command in 2003. He moved over to the 1st Armored Division as assistant divisional commander in 2007, serving 15 months in Iraq. While there, he survived a car-bomb attack on his armored vehicle.
Thomas was moved to Washington in 2009 as deputy director for special operations for the Joint Chiefs of Staff. The following year, he was made deputy commanding general at Joint Special Operations Command and in 2012 was named commanding general of the Special Operations Joint Task Force—Afghanistan/NATO Special Operations Component Command.
In 2013, Thomas went to work at the Central Intelligence Agency as its associate director of military affairs. The following year, he took over as commander of the Joint Special Operations Command at Fort Bragg, N.C., the unit that oversees secret counter-terrorism units including Delta Force and the Navy's SEALS. He was in that post until being given Special Operations Command.
Thomas has a reputation of being a straight-talker and inspiring loyalty from those he commands. He's known for giving subordinates a copy of "Gates of Fire," a novel about the last stand of 300 Spartan hoplites at Thermopylae, and discussing it with them during five-mile runs.
Thomas and his wife, Barbara, have two sons, both graduates of West Point.
-Steve Straehley
To Learn More:
The Shadowy JSOC General Expected to Be Next Leader of America's Special Operations Forces (by Wesley Morgan, Washington Post)
New Socom Leader Thomas Known for Broad Experience, Honest Talk (by Howard Altman, Tampa Bay Times)