Commandant of the U.S. Marine Corps: Who Is Robert Neller?
Saturday, October 17, 2015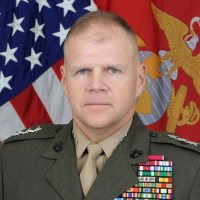 Robert Neller (photo: Dept. of Defense)
Lt. Gen. Robert Neller officially took over the post of commandant of the U.S. Marine Corps on Sept. 24 when Gen. Joseph Dunford vacated the position to become President Barack Obama's top military officer at the Department of Defense.
Neller is from East Lansing, Michigan, and graduated from East Lansing High School in 1971. He went on to the University of Virginia, where he was a member of Theta Chi fraternity and graduated from Virginia in 1975 with a degree in history and speech communication. He later earned a master's degree from Pepperdine University in human resources management. After graduating from Virginia, Neller went directly into the Marine Corps via the Platoon Leader Class.
After his basic school, Neller was assigned to the Third Marine Division. In 1977 he was sent to the Marine Corps Recruit Depot in San Diego and by 1980 was promoted to captain. Later that year, he was transferred to the First Marine Division at Camp Pendleton. He worked there on testing of ARMVAL, an anti-tank program. After finishing that project, Neller was sent to Okinawa and returned in 1982 to attend the advanced armor officers' course at Fort Knox, Kentucky.
Neller was promoted to major in 1986 and was posted at Marine Corps headquarters. In 1988 he was made commanding officer of the Marine Corps security company in Panama and participated in Operation Just Cause, the removal of Panamanian President Manuel Noriega.
In 1990, Neller attended the Marine Command and Staff College then was sent back to the First Marine Division as commanding officer of the 3rd Light Armored Infantry Battalion. He was promoted to lieutenant colonel in August 1992 and deployed with his unit to Somalia from December 1992 to February 1993 as part of Operation Restore Hope, the effort to restore order enough to allow humanitarian aid to be distributed. He was then sent to Twentynine Palms, California, as executive officer of the Seventh Marines before going to Europe for three years on the staff of Supreme Headquarters, Allied Powers Europe. Neller was deployed to Bosnia-Herzegovina to help enforce the peace agreement there.
Neller returned to the United States in 1997, was made colonel and was assigned to the 2nd Marine Expeditionary Force at Camp Lejeune, North Carolina. In 1998, he became commander of the Sixth Marine Regiment. In March 2001, Neller got his star as brigadier general and subsequently was named assistant division commander of the 2nd Marine Division. In 2002, he was assigned to Marine Corps headquarters as director, Operations Division, Plans and Policies. He returned to Camp Pendleton in 2005 as Deputy Commanding General of the First Marine Expeditionary Force, which was deployed to Iraq in 2006. Back in the U.S. the following year, he was made major general and served as Assistant Division Commander for the 1st Marine Division. He took command of the 3rd Marine Division in June 2007.
In 2009, Neller was made president of the Marine Corps University, which coordinates education for officers and enlisted personnel. He became Director of Operations for the Joint Staff in 2011 and the following year was made commander of the Marine Corps Forces Central Command based at MacDill Air Force Base near Tampa, Florida. In 2014 he was made commander of the Marine Corps Forces Command in Norfolk, Virginia.
Secretary of Defense Ashton Carter nominated Neller for the commandant post on July 2, 2015, over several other higher-ranked officers. However, Neller and Carter were known to have had a good relationship since Neller's stint on the Joint Staff. Neller is also said to be attentive to the needs of the average Marine. He has launched a campaign to cut down on drunk-driving accidents and deaths involving Marines.
High school sweethearts Neller and his wife, the former D'Arcy Dutch, have three children: Brett, Claire and Kurt.
-Steve Straehley
To Learn More:
Meet Lt. Gen. Robert Neller, Nominee to Be the Next Marine Corps Commandant (by Dan Lamothe, Washington Post)
'Damned if I know.' New Marine chief says he had no clue he would get job (by Dan Lamothe, Washington Post)