Chief Operating Officer of the Federal Student Aid Office: Who Is James Runcie?
Thursday, January 12, 2017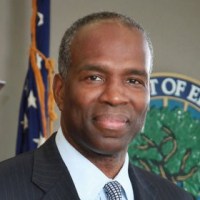 James Runcie
James W. Runcie was appointed to lead the Office of Federal Student Aid (FSA) on September 15, 2011, and reappointed to the post December 23, 2015. Federal Student Aid, part of the U.S. Department of Education, provides more than $150 billion in federal grants, loans, and work-study funds each year to more than 13 million students paying for college or career school. These loans are issued either directly from the federal government or as federally guaranteed private loans.
Runcie was born in Jamaica, son of a sugar cane farmer, and moved with his family to New York when he was four years old. He attended Roosevelt High School in Hyde Park, New York, where he starred as a basketball player, graduating in 1981. He initially played for the University of Virginia, but transferred to Holy Cross in Worcester, Massachusetts, the following year. There he was involved in an incident with racial overtones. In December 1984, Runcie was punched during a practice by a white player. As a result, Runcie and three other black players walked off the team. One rejoined the team but the others did not. At the time, 1.7% of the Holy Cross student body was African-American. Years later, Runcie was a leading scorer in New York's Lawyer's Basketball League.
Runcie earned a bachelor's degree in mathematics from Holy Cross in 1985, and an MBA from Harvard in 1991.
Runcie's career began in the business world, not education. He worked for Xerox, and then in 1991 the investment bank Donaldson, Lufkin & Jenrette, becoming a senior vice president. He moved to Banc of America Securities as a managing director in 2000, and then joined UBS Investment Bank in 2002, where he was co-head of Equity Corporate Finance.
Runcie joined the Federal Student Aid program in September 2009, first as an adviser, and then the following year as deputy chief operating officer. In May 2011, he was promoted to acting CEO.
Shortly after Runcie was named to officially lead the agency in September 2011, FSA suffered a brief data glitch that allowed users of its website to see others' financial data for about seven minutes.
In November 2015, the Government Accountability Office criticized FSA for not doing enough to stop student aid fraud, particularly at for-profit colleges. The Consumer Financial Protection Bureau also found that borrowers were mistreated by private financial institutions that had been overseen by FSA. One company, Navient, was accused by federal prosecutors of breaking the law by overcharging active-duty military personnel for student loans. Navient had been cleared by FSA after what the Education Department's inspector general later found to be a flawed investigation.
Runcie oversaw the important move from bank-based student loans to those held by the federal government, which saved taxpayers billions of dollars. During his tenure, FSA has increased the direct loan portfolio of federal student loans from 9.2 million recipients representing $155 billion to 32 million recipients representing $1 trillion.
Runcie's brother, Robert, is also involved in education as the superintendent of the Broward County (Florida) School District.
-David Wallechinsky
To Learn More: