Chief Counsel and Director of the Office of Professional Responsibility: Who Is Robin Ashton?
Monday, February 13, 2017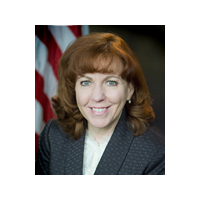 Robin Ashton
Robin C. Ashton, a career prosecutor at the U.S. Department of Justice and a top official in the District of Columbia's U.S. Attorney's Office, was named by then-attorney general Eric Holder as chief counsel and director of the Office of Professional Responsibility (OPR) on December 23, 2010. OPR, whose creation in 1975 was an outgrowth of the Watergate scandal and whose mission is to maintain and enforce legal and ethical conduct by U.S. Attorneys, had been plagued by controversy during the George W. Bush administration.
Ashton earned her B.A. in English from the University of Michigan, and her J.D. from the College of William and Mary, Marshall-Wythe School of Law.
Ashton was hired in January of 1991 as an assistant U.S. attorney for the U.S. Attorney's Office for the District of Columbia (USAO-DC), the largest such office in the country. She began her career in the department's Antitrust Division and, over the course of a decade, her work ranged from the prosecution of more than 50 felony jury trials to supervising hundreds of grand jury investigations. For five of her years at USAO-DC, Ashton served as the executive assistant U.S. attorney for management, handling oversight of special operations and cases.
In 2001, Ashton became the Justice Department's deputy director of the Executive Office for U.S. Attorneys, overseeing litigation divisions and operational elements of the nation's 94 U.S. Attorneys' Offices. During her five-year tenure in that post, Ashton became the victim of a scandal over politicized hiring at the Justice Department. A promised promotion was snatched away from her due to the actions of Monica Goodling, a 31-year-old, inexperienced lawyer who had just been recruited by the DOJ. "You have a Monica problem," Ashton was told by her supervisor, several DOJ officials told The New York Times. "She believes you're a Democrat and doesn't feel you can be trusted."
Goodling, who had once ordered that partially nude statues in the Justice Department's Great Hall be covered up with drapes, used a political litmus test, along with other senior officials, to block the hiring of suspected Democrats. She also graded U.S. attorneys' loyalties to the George W. Bush administration, firing those who didn't measure up. One job applicant was even asked, "Have you ever cheated on your wife?" Goodling was promoted to the position of White House liaison, but an investigation eventually concluded she had violated federal law.
At a 2007 House hearing into the scandal, James Comey—then deputy attorney general, who had once praised Goodling's abilities as a lawyer—testified, "I don't know how you would put that genie back in the bottle, if people started to believe we were hiring our A.U.S.A.s [Assistant United States Attorneys] for political reasons. I don't know that there's any window you can go to to get the department's reputation back if that kind of stuff is going on."
Two weeks after Goodling sabotaged her promotion in 2005, Ashton left her job. She went on that year to assume a year-long detail at the Senate Judiciary Committee. It was under the Obama administration that she was tapped for the leadership post at OPR, a division of the DOJ that came with its own baggage. Indeed, Ashton took the reins of an agency that has weathered a fair amount of controversy over the years, including accusations that the lethargic pace of investigating legal opinions issued by the George W. Bush administration laid the groundwork for the torture inflicted by American interrogators on post-9/11 detainees. OPR was also accused of mishandling evidence that resulted in the collapse of a 2008 corruption case against the late Sen. Ted Stevens (R-Alaska).
In June 2016, Ashton incurred the displeasure of Sen. Charles Grassley (R-Iowa), chairman of the Senate Judiciary Committee, when she refused to appear at a hearing about allegations of sexual harassment and other misconduct at the Drug Enforcement Agency.
-Danny Biederman
To Learn More: