Chairman of the Broadcasting Board of Governors: Who Is Richard Stengel?
Saturday, December 31, 2016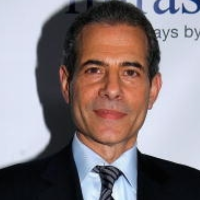 Richard Stengel (photo: Andy Kropa, Getty Images)
Richard Stengel, who had a long career at Time magazine before joining the Obama administration, was nominated on November 28, 2016, to serve as chairman of the Broadcasting Board of Governors.
Stengel is from New York City. He went to Princeton University, where he played on the basketball team, including on the winning squad in the 1975 National Invitation Tournament. He graduated in 1977 and went on to study English and history at Oxford as a Rhodes Scholar.
Stengel began at Time in 1981, initially writing for them as well as for other publications such as The New Yorker and Rolling Stone. He covered the 1988 presidential campaign for Time. In 1990, he came out with the book "January Sun: One Day, Three Lives, A South African Town," which covered the period just before apartheid ended. The book caught the notice of Nelson Mandela and the African National Congress, and Stengel was retained to ghostwrite Mandela's autobiography, "Long Walk to Freedom." Stengel subsequently wrote "Mandela's Way: Fifteen Lessons on Life, Love and Courage," about the time he spent with Mandela, and "You're Too Kind, A Brief History of Flattery."
Stengel returned to Time, and covered the 1996 presidential race. He left in 1999, when he took a leave of absence from the magazine to write speeches for Sen. Bill Bradley, who was running for president. Stengel had met Bradley when Bradley spoke to one of his classes at Princeton. Stengel also taught journalism classes at his alma mater during this period.
After Bradley's campaign ended in 2000, Stengel went back to Time to lead Time.com. He subsequently served as culture editor and nation editor. Stengel stayed at the magazine four years before leaving again, this time to become president and CEO of the National Constitution Center, a museum in Philadelphia.
However, that lasted only two years before being named in 2006 as Time's managing editor. The magazine was at somewhat of a crossroads, dealing like most print publications with declining circulation. Stengel revamped the magazine, putting more focus on analysis and hard news. He even changed Time's publication day to Friday, giving the magazine to subscribers for their weekend reading. Lowlights of his tenure included many layoffs and criticism for Time's choice as 2006 Person of the Year: You.
Stengel left Time in 2013 and the following year joined the State Department as Under Secretary for Public Diplomacy and Public Affairs. Among other parts of his job, he was tasked with countering ISIS' message. Stengel remained in that job until he was nominated for the Broadcasting Board of Governors.
If Stengel is confirmed by the Senate, he probably shouldn't get too comfortable. His term expires August 13, 2017.
Stengel is married to Mary Pfaff, whom he met while in South Africa working with Mandela. They have two sons, Anton, and Gabriel, who is Mandela's godson.
-Steve Straehley
To Learn More:
The Time of Their Lives (by Joe Hagen, New York)
Richard Stengel Is Chosen to Be Top Editor at Time (by Katharine Q. Seelye, New York Times)
Q&A: Richard Stengel '77 on Nelson Mandela (by Louis Jacobson, Princeton Alumni Weekly)
Biography (Wikipedia)