Assistant Secretary for Fossil Energy: Who Is Christopher Smith?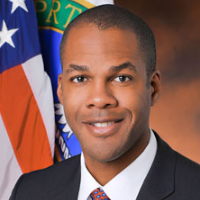 Christopher A. Smith was nominated by President Barack Obama to be the Department of Energy's Assistant Secretary for Fossil Energy on September 10, 2013. Because his nomination was not confirmed by the U.S. Senate by the end of the year, he was renominated for the post January 6, 2014.
Smith grew up in Fort Worth, Texas, the son of Raymond Clyde Smith Jr. and Sue Ann Smith. He graduated from Southwest High School in Fort Worth in 1986. He went on to attend the United States Military Academy at West Point, graduating in 1991 with a Bachelor of Science in Engineering Management.
After graduating from West Point, Smith served as a combat engineer in South Korea and Hawaii. He joined Citibank in 1994 and moved to J.P. Morgan in 1995 working in London. While in England he attended Cambridge University, earning an MBA in 1997.
In 1998, Smith joined Texaco, staying on as that company merged with Chevron. He worked in business development and natural gas trading. For three years, he worked in Latin America, during which time he negotiated a pipeline deal between Colombia and Venezuela.
Smith was asked to join the Obama Administration in October 2009. His first assignment was as deputy assistant secretary for Oil and Natural Gas in the Office of Fossil Energy. He served as the president's representative to the National Commission on the BP Deepwater Horizon Oil Spill and Offshore Drilling in the wake of the Gulf of Mexico spill.
In February 2013, Smith was named principal deputy assistant secretary for Fossil Energy, and has been acting deputy secretary in the fossil energy office since then.
A cousin of Smith's, Emily J.T. Perez, graduated from West Point in 2005 and was killed in action in Iraq. Smith and his wife, Dr. Patricia Smith, have two children, Andrew and Amanda.
-Steve Straehley
To Learn More:
Statement of Christopher Smith Nominee to be Assistant Secretary for Fossil Energy U.S. Department of Energy (pdf)
Christopher Smith's Story: Clean Energy & Service (by Christopher Smith, White House)