Assistant Secretary for Economic and Business Affairs: Who Is Manisha Singh?
Thursday, October 05, 2017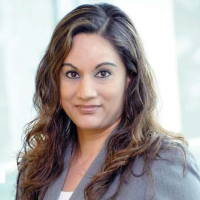 Manisha Singh
Manisha Singh, who previously worked in the State Department during the George W. Bush administration, was nominated September 7, 2017, to lead the department's Bureau of Economic and Business Affairs.
Singh was born in Uttar Pradesh state in India, but moved as a child with her parents to Lake Alfred, Florida, where her father was a professor with the University of Florida's Institute of Food and Agricultural Sciences extension. Singh attended Auburndale High School, where she got her first taste of Washington on a 1987 trip sponsored by then-Congressman Andy Ireland (R), who represented Singh's district. "We toured the Capitol and learned what members of Congress do, and ever since then I was fascinated with public policy. And I always wanted to try and make a difference," Singh told Joel Gehrke of the Washington Examiner.
Singh graduated from Auburndale High in 1988 and went on to the University of Miami, earning a B.A. in political science in 1991 at age 19. She then went to law school at the University of Florida, earning her J.D. in 1994, and then continued her legal studies at American University, where she added an LL.M. in international legal studies in 1996. That year she also appeared as a "law student" on CNN's "Burden of Proof", asking questions about Republican campaign ads, the murder acquittal of O.J. Simpson and President Bill Clinton's testimony at the trial of Clinton financial partner James McDougal.
While at American, Singh worked in the Office of the General Counsel for the U.S. International Trade Commission. She then clerked for Judge Edward Threadgill of Florida's 2nd District Court of Appeal. Singh subsequently worked for Stewart and Smith, Inc., where she advised financial investment firms regarding domestic and international legal issues involving securities. She also worked for the law firm Reed Smith, focusing on domestic and cross-border transactions, and at Squire, Sanders and Dempsey's Corporate and Capital Markets Group. In her private sector work, her specialty was helping clients do business in India and China.
Singh then began working on Capitol Hill, first on the Republican staff of the House Energy and Commerce Commission. In 2003, she moved to the Senate as deputy chief counsel for the Foreign Relations Committee under Sen. Dick Lugar (R-Indiana), responsible for international trade agreements. Singh joined the Bush administration in 2007, first as deputy assistant secretary in the State Department's Bureau of International Organization Affairs, and then as deputy assistant secretary for trade policy and programs in the Bureau of Economic and Business Affairs under then-Assistant Secretary Dan Sullivan. There, she supervised four groups: Multilateral Trade Affairs; Bilateral Trade Affairs; Agriculture, Biotechnology and Textile Trade Affairs; and Intellectual Property Enforcement.
In 2010, Singh was named the first executive director of the Barer Institute for Law and Global Human Services at the University of Washington School of Law. The institute's mission is to study and promote the effectiveness of legal frameworks as essential elements in achieving goals for human health, education, and social and economic well-being in developing countries. Singh was there only about a year though, returning to work at the Senate Foreign Relations Committee.
In 2015, she resumed working for Dan Sullivan, by this time a Republican Senator from Alaska, as his chief counsel and senior policy adviser.
Singh speaks Hindu and some Spanish.
-Steve Straehley
To Learn More:
Staffer Profile: Manisha Singh's Class Trip to D.C. Turned Into a Career on the Hill (by Joel Gehrke, Washington Examiner)
Indian American to Head Law School at University of Washington (by Aziz Haniffa, Rediff)
Deputy Assistant Secretary for Trade Policy and Programs: Manisha Singh (State Department)