Ambassador to Suriname: Who Is John Nay?
Saturday, January 23, 2010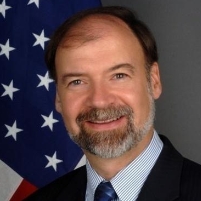 President Barack Obama appointed a new ambassador for the South American nation of Suriname, a relatively prosperous country in northern South America with a fairly well-developed mining and manufacturing sector, whose population is almost evenly divided amongst Hindus, Protestants, Catholics, and Muslims. Nay was sworn in on August 13, 2009.
Nay, who has visited all 50 states, is language qualified in Chinese (Mandarin). He and his wife, Judith Ashdon Nay, have three children, Janelle, Jaclyn, and Jordan.
- Matt Bewig