Administrator of the Federal Railroad Administration: Who Is Sarah Feinberg?
Saturday, October 03, 2015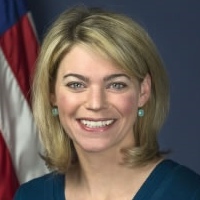 Sarah E. Feinberg, who has been acting administrator of the Federal Railroad Administration (FRA) since the beginning of 2015, was named to fill the post on a permanent basis by President Barack Obama on May 29, 2015. The Senate Committee on Commerce, Science, and Transportation held a hearing on her nomination on September 17.
Feinberg was born October 3, 1977, and almost immediately was steeped in politics. As a child, she went to campaign events with her father, Lee Franklin Feinberg, as he ran for West Virginia state legislator and after he won "sat on his lap while he was voting," she told Politico. Her mother, Mary E. Stanley, was until 2013 a U.S. District Court judge in West Virginia. Feinberg grew up in Charleston, West Virginia, and attended Charleston Catholic High School, where she ran track and cross-country. She graduated in 1995 and went to Washington and Lee University, where she continued to run competitively. Feinberg received her B.A. in politics in 1999.
She landed a job as a staff assistant for the Senate Veterans Affairs Committee right out of school. She worked briefly for a marketing company in Charleston and for the Environmental Working Group, but quickly returned to politics.
In 2000, Feinberg was the West Virginia communications director for the Gore-Lieberman campaign. It was during this time that she met the man who would become her husband, Daniel Pfeiffer, who later was White House communications director under Obama.
By 2002, Feinberg was in South Dakota as communications director for that state's Democratic Party and working on the Senate campaign of Democrat Tim Johnson. She returned to Washington in 2003 as deputy director of the Senate Democratic Communications Committee and later that year became press secretary for then-Senate Majority Leader Tom Daschle (D-South Dakota). In 2005, she was press secretary of the Democratic Congressional Campaign Committee and in 2007 was communications director for the House Democratic Caucus. She worked closely with Rahm Emanuel, who later became Obama's chief of staff.
Feinberg worked on Obama's 2008 campaign and transition team. After the election, Emanuel brought her into the White House as his senior advisor and a special assistant to the President.
She left government service in 2010 to be Bloomberg's Director of Communications and Business Strategy. The following year, Feinberg decamped for Facebook as its director of corporate and strategic communications.
Feinberg returned to the Obama administration in 2013 as chief of staff to Transportation Secretary Anthony Foxx. She remained there until being named acting head of the FRA on January 12, 2015.
Some have been critical of the decision to appoint someone with little transportation background to the FRA post, but others will be glad just to have a permanent appointee in an organization that has gone without one since the end of 2014.
Feinberg has already had a lot of work to do. There have been several rail accidents involving tank cars filled with oil, some in her home state of West Virginia. The Department of Transportation has pushed for improvements in the cars, but has met resistance from railroads.
Feinberg and Pfeiffer, who married in 2006, are separated.
-Steve Straehley
To Learn More:
Lawmakers Press Railroad Nominee on Safety Deadline (by Ron Nixon, New York Times)
Railroad Chief at a Crossroads (by Heather Caygle, Politico)
Sarah Feinberg: Rahm's Talking Point Woman (by Helena Andrews, Politico)