Acting Under Secretary for Rural Development: Who Is Doug O'Brien?
Saturday, November 15, 2014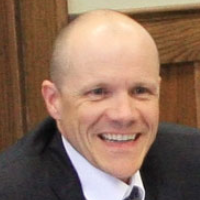 On May 5, 2013, Doug O'Brien was appointed acting under secretary of agriculture for Rural Development after having served as deputy under secretary for rural development. Rural Development administers more than 40 separate programs, including providing loans and grants for businesses and non-profit groups.
O'Brien grew up on a farm in near Fillmore, Iowa, outside of Dubuque and graduated from Cascade High School in 1989. He attended Loras College in Dubuque, and earned a bachelor's degree in English language and literature in 1992 after only three years. O'Brien then went to the University of Iowa, earning his J.D. in 1996, and then to the University of Arkansas for his Master's degree in agricultural law in 1998, after which he clerked for Iowa Supreme Court Justice Jerry Larson.
He worked as a legal specialist in the U.S. Department of Agriculture's Grain Inspection Packers and Stockyards Administration's National Hog Office and then became a legislative assistant to Rep. Leonard Boswell (D-Iowa). In 2001 he was a counsel for the Senate Agricultural Committee, where he worked on the 2002 farm bill. O'Brien returned to Iowa in 2004 as a senior staff attorney at the Drake University Agricultural Law Center, but also taught part-time at Arkansas' agricultural law program. In 2006, O'Brien served as a senior advisor in the Iowa governor's office on energy issues.
O'Brien left Iowa in 2006 to become the assistant director of the Ohio Department of Agriculture. There, he focused on plant industries, animal health and biofuels and renewable energy. He left to work on the Obama for President campaign in 2008 as rural vote director for Obama for Ohio. After the election, O'Brien was brought into the Obama administration, first as chief of staff for Deputy Agriculture Secretary Kathleen Merrigan, then as senior advisor to a fellow Iowan, Secretary Tom Vilsack. In 2011, O'Brien was named deputy under secretary for rural development.
Since joining Rural Development, O'Brien has worked on projects such as helping farms increase their use of renewable energy, giving rural areas help with high energy costs and other efforts to boost rural economies.
O'Brien's brother, Bill, is a senior advisor for program innovation at the National Endowment for the Arts and had a recurring role as "Kenny Thurman," the sign language interpreter to Marlee Matlin's character on "The West Wing."
-Steve Straehley
To Learn More
Cascade Native Is USDA-Approved (by Sara Millhouse, Cascade Pioneer)