Acting Director of the Bureau of Alcohol, Tobacco, Firearms and Explosives: Who Is Thomas Brandon?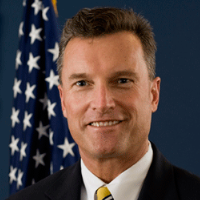 Thomas E. Brandon, who has served as deputy director of the Bureau of Alcohol, Tobacco, Firearms and Explosives (ATF) since 2011, is now the bureau's acting director. Brandon took over for B. Todd Jones, who left ATF and will be joining the National Football League as its chief disciplinary officer.
Brandon, who's originally from New Jersey, has been with ATF most of his adult life. Before joining the bureau, he served as a Marine, guarding embassies in Rome and Dhahran, Saudi Arabia, from 1978 to 1982. He then attended Oakland University in Rochester, Michigan, earning a B.S. in business administration in 1987. He briefly worked for the Internal Revenue Service in Detroit as an investigator in the agency's criminal investigative division.
Brandon joined ATF in 1989 in the Detroit field division and continued to spend much of his career in Detroit. He moved up to supervisory special agent of the Detroit arson and explosives enforcement group and, in 2002, to assistant special agent in charge. He also served as special agent with the Office of Inspection in Washington, as supervisory special agent of the Achilles Enforcement Group, which used gun laws to imprison career criminals and drug traffickers, in Los Angeles, and as chief of ATF's National Academy.
In January 2008, Brandon was named special agent in charge of the Detroit field division. While there, his office investigated and arrested members of the Outlaws motorcycle gang for multiple drug violations.
Brandon was transferred to the Phoenix office in the wake of the Fast and Furious gun sales scandal in August 2011 to help the office get over that controversy. He wasn't there long, however, being promoted to deputy director that October.
Brandon was brought before a House committee hearing in February 2014 to testify about botched storefront sting operations performed by ATF. He admitted that putting a gun-buying shop to serve as bait for drug and gun traffickers across the street from a middle school in Portland, Oregon, was "a mistake."
-Steve Straehley
To Learn More: