The Gambia's Ambassador to the United States: Who Is Dawda Fadera?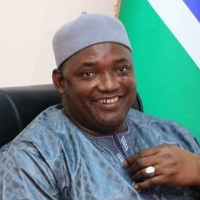 Dowda Fadera (photo: SMBC Gambia)
Dawda Docka Fadera, who managed his country's civil service for much of his career, presented his credentials as The Gambia's ambassador to the United States to President Donald Trump on January 24, 2018. It's his first such posting.
Fadera was born in Kiang Nema, in the country's Lower River (now Mansa Konko) Division, in the center of The Gambia.
Fadera worked in The Gambia's Personnel Management Office beginning in 1995, rising to become the office's permanent secretary in August 2010. He was dismissed from the post by then-Gambian leader Yahya Jammeh in 2011, but brought back a year later when Jammeh found the office wasn't functioning as well as it had been under Fadera's leadership. He was also made vice chairman of the Royal Victoria Teaching Hospital and chairperson of the board of directors for the Edward Francis Small Teaching Hospital.
Fadera testified in August-September 2014 against former Secretary General Njogou Bah. The following year, Fadera himself was caught up in a corruption investigation involving oil contracts, but the prosecution was dropped.
In 2017, newly-elected President Adama Barrow appointed Fadera secretary general and head of The Gambia's civil service, posts he held until January 2018.
Fadera arrived in Washington with his wife and four children.
-Steve Straehley
To Learn More:
Dawda Fadera (Wikipedia)
Reforms to End "Political Interference" in Gambia's Civil Service (by Kebba Jeffang, SBN)