Director of the Federal Transit Administration: Who Is Thelma Drake?
Monday, February 19, 2018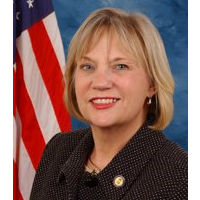 Thelma Drake
Thelma Day Drake, a former congresswoman from Virginia, was nominated February 14, 2018, to be director of the Federal Transit Administration (FTA). The FTA funds the nation's mass transit systems by distributing money to local and state governments.
Drake was born November 20, 1949, in Elyria, Ohio. Although raised in a Democratic family, as a 14-year-old she volunteered for Republican Barry Goldwater's presidential campaign. She graduated from Elyria High School in 1967, and, at age 17 and with a baby daughter, Lynn, in tow, moved to Norfolk, Virginia, to join her husband, who was stationed there in the Navy. The couple also had a son, J. Mark, but soon split and Drake raised the children on her own. Drake attended, but did not graduate from, Old Dominion University.
Drake became a real estate broker in the Hampton Roads area and did well for herself. In 1993, she won a seat from Norfolk in the Virginia House of Delegates after signing a term-limit pledge. Drake eventually served five terms in the state house. In 2001, she also served on the transition team for Virginia Attorney General Jerry Kilgore (R).
In 2004, Drake jumped into the race for Congress when, with only two months before the election, Rep. Ed Schrock (R), dropped his bid for re-election. The congressman, a Navy veteran who had argued that the military's Don't Ask, Don't Tell policy on gay service members was too lenient, was accused of having solicited sex on a gay phone dating service. Although her Democratic opponent had a head start, Drake won the election and a seat on the House Armed Services Committee, giving her the chance to advocate for the massive Navy base in her district.
Drake won a second term, but was denied in her bid for a third when she was decisively beaten in 2008 by Democrat Glenn Nye. From 2007 to 2008, she was a member of the House Transportation and Infrastructure Committee. During the 2008 presidential campaign, Drake signed on as a member of the Palin Truth Squad to counter "false attacks, rumors and smears" against Republican vice-presidential candidate Sarah Palin.
As a member of Congress in 2006, Drake was a vocal supporter of off-shore oil drilling.
Drake landed in 2010 in the administration of Virginia Gov. Bob McDonnell (R) as director of the Virginia Department of Rail and Public Transportation. While there, she helped re-establish passenger train service to her hometown of Norfolk. Drake left the McDonnell administration in 2013 and the following year landed as regional director for community and member outreach for the Virginia Hospital and Healthcare Association. In 2015, she joined the city of Norfolk transportation department, lobbying for the agency to the state's general assembly, and in 2016 Drake was named the city's assistant director of transportation.
Drake was married to her second husband, Joe Sawyers, from 1974 to 1984. In 1990, she married her current husband, Thomas E. "Ted" Drake.
-Steve Straehley
To Learn More:
Thelma D. Drake (U.S. House of Representatives)
Norfolk's Thelma Drake Nominated to Lead Federal Transit Administration in Trying Time for Transit (by Jordan Pascale, Norfolk Virginian-Pilot)
Drake's Political Strength: Bonding with Voters (by Aaron Applegate, Norfolk Virginian-Pilot)
VPOD: Rep. Thelma Drake (by Jim Hoeft, Bearing Drift)
Drake: Humble Roots Paved Conservative's Path to Washington (by Jon Frank, Norfolk Virginian-Pilot)