CEO of the Millennium Challenge Corporation: Who Is Sean Cairncross?
Tuesday, January 16, 2018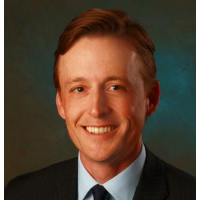 Sean Cairncross
Sean Stuart Cairncross, who has no background in development aid to poor countries, but was former White House Chief of Staff Reince Priebus' assistant, was nominated January 4, 2018, to be chief executive officer of the Millennium Challenge Corporation. The organization was established in 2004 to administer the Millennium Challenge Account (MCA), the George W. Bush administration's bilateral development aid fund. The MCA was conceived in the wake of the 9/11 attacks as a means of combating terrorism through poverty alleviation—or, more accurately, through economic development in poor countries where instability could pose a threat to U.S. interests.
Cairncross was born July 12, 1974, in Ramsey, Minnesota, a suburb of the Twin Cities. He attended St. Paul (Minn.) Academy, graduating in 1993. Cairncross went on to earn a B.A. from American University in 1997; an M.Phil. from Cambridge in 1998; and a J.D. from New York University in 2001.
Cairncross began his legal career in the firm of Covington and Burling. In 2004, he joined the Republican National Committee (RNC) as a deputy counsel, becoming the organization's chief counsel in March 2007. While there, he helped the GOP push its "voter fraud" agenda, coming out against voter registration efforts and pushing voter ID laws.
Cairncross moved over to the National Republican Senate Committee in 2009 as general counsel and deputy executive director. Cairncross was in that role when the committee was subpoenaed in the investigation of Sen. John Ensign (R-Nevada). Ensign eventually resigned his seat amid an ethics scandal. In February 2012, Cairncross was revealed to be the author of a pledge attributed to Sen. Scott Brown (R-Massachusetts) that was supposed to limit outside money in Massachusetts' Senatorial campaign.
Cairncross returned to private practice in 2013 as a partner at Holtzman Vogel Josefiak Torchinsky law firm. In 2014, he took on additional work as general counsel for VogelHood Research, a Washington consulting firm. Cairncross also did some work for the National Rifle Association.
Beginning in July 2015, Cairncross served as chief operating officer of the RNC during the 2016 election cycle. On November 1, he replaced Sean Spicer as the RNC's top debate negotiator with the campaigns of the various Republican presidential candidates.
In October 2016, he sent out a soon-to-be notorious campaign fundraising email appeal that stated, "Friend, I want to cut you a deal. Starting right now, chip in at least $20 to the Republican National Committee (RNC) within the next 24 hours, and we won't send you any fundraising emails for the rest of October."
When Republicans moved into the White House in January 2017, Cairncross was among them, landing as deputy assistant to the president and senior adviser to Priebus. When Priebus was forced out in late July of that year, Cairncross' days in the West Wing were numbered.
Cairncross is married to his high school sweetheart, Emily Skor, whom he met in grade school. Skor is CEO of Growth Energy, the trade association for U.S. ethanol producers. They have two children: India and Dominic.
-Steve Straehley
To Learn More:
Sean Cairncross (LinkedIn)