U.S. Ambassador to Namibia: Who Is Lisa A. Johnson?
Friday, December 01, 2017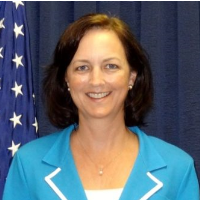 Lisa A. Johnson
The southern African nation of Namibia will soon have a new ambassador, courtesy of President Donald Trump. Lisa A. Johnson is a career foreign service officer with 25 years of experience at the State Department. She has been chargé d'affaires ad interim at the U.S. Embassy in Nassau, Bahamas, since July 9, 2014. Nominated on October 5, 2017, Johnson will succeed Thomas F. Daughton, who has served in Windhoek since September 2014.
Born in 1967, Lisa Anne Johnson graduated Issaquah High School in Issaquah, Washington, in 1985. She earned a BA in Political Science and Economics at Stanford University in 1989, a Master's of International Affairs at Columbia University in 1991, and an MS in National Security Strategy from the National War College in 2010.
Johnson joined the U.S. Foreign Service in 1992. She has been posted overseas at U.S. embassies in Beirut, Lebanon; Islamabad, Pakistan; Luanda, Angola; and Pretoria, South Africa. She was also detailed to the Office of the Secretary General of the North Atlantic Treaty Organization (NATO) in Brussels, Belgium.
Johnson served as director for Middle East Affairs at the National Security Council starting in 2001. She also served as deputy director of the State Department's Office of Canadian Affairs; as senior advisor for South and Central Asia in the Office of the Vice President; and as director of the Office of Africa and the Middle East in the State Department's Bureau of International Narcotics and Law Enforcement Affairs.
Lisa Johnson's hobbies include hiking, golf, and stand-up paddle boarding. She speaks French and Portuguese.
-Matt Bewig
To Learn More:
Confirmation Hearing Testimony (Senate Foreign Relations Committee)
Diplomat to Take Up U.S. Embassy Role (Tribune 242)
Q&A With Us Charge D'Affaires Lisa Johnson (Tribune 242)