Not the Director of the Office of Personnel Management: Who Was George Nesterczuk?
Wednesday, August 02, 2017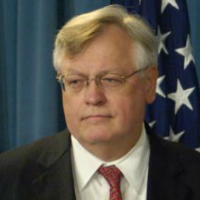 George Nesterczuk
George Nesterczuk, who has years of experience working in the Office of Personnel Management (OPM) under Republican presidents, was announced on May 23, 2017, as Donald Trump's nominee to lead the agency. However, on July 31, Nesterczuk withdrew his name from consideration five days after 16 unions representing hundreds of thousands of federal workers sent a letter to the Senate Committee on Homeland Security and Governmental Affairs citing multiple objections to his nomination.
Nesterczuk was born in Asch, in what was West Germany. He also lived in France before coming to New York, where he graduated from Brooklyn Technical High School. Nesterczuk went to Cornell University, earning a B.A. in physics in 1967. He went on to earn an M.S. in astrophysics from the University of Maryland in 1971. His first job was as a graduate research assistant at the Goddard Space Flight Center.
The following year, he was named vice president of Atlantic Science Corp., a position he held for five years. In 1977, Nesterczuk became the first director of the Ukrainian National Information Service. He later served as chairman of the Orphans' Aid Society for Ukraine.
In 1978, Nesterczuk went to work for defense contractor EG&G. There, he co-authored a paper on efforts to improve the ability to resolve low-frequency equatorial wave motions from satellite observations.
Nesterczuk moved into the political world as a member of Ronald Reagan's presidential transition team after running his Maryland campaign. When Reagan took office in 1981, Nesterczuk was made associate director in charge of executive personnel at OPM.
In September 1982, Nesterczuk left OPM to manage the U.S. Senate campaign for Lawrence J. Hogan, a Republican who was attempting to unseat Maryland Democrat Paul S. Sarbanes. After Hogan lost, Nesterczuk was rehired by OPM into his old job. Some questioned whether Nesterczuk should be rehired. The American Society of Public Administration editorialized that it amounted to a "gross affront" to the Hatch Act, which prohibits some federal employees from engaging in political activity. In June 1984, Nesterczuk was to be nominated to be deputy director of the U.S. Information Agency, but his nomination was never submitted to the Senate for confirmation and he remained at OPM for the time being.
Nesterczuk left OPM in June 1985 when he was fired after a change of leadership at the agency. He moved on to stints in the Department of Defense and as chief scientist and technical adviser at the Department of Transportation. He left government in 1986, running Nesterczuk and Associates, a consulting firm Nesterczuk operated when not in government. One of his jobs, in 1990, was as a consultant for California's Citizens Compensation Commission. Nesterczuk recommended an executive pay increase that would go into effect just in time for then-Gov. George Deukmejian's pension to be increased upon leaving office. The raise was eventually denied.
Nesterczuk returned to the federal government in 1995 as the staff director of the Civil Service Subcommittee of the House Government Reform Committee. When federal employee unions wanted to end the practice of "free-riders," employees enjoying union benefits without paying dues, Nesterczuk vowed to oppose such efforts from his House position.
Nesterczuk returned to the consulting business in January 2000 after a department purge as vice president of consulting firm Global USA Inc. and as president of Nesterczuk and Associates. However, in 2004 he was back at OPM as senior adviser to the director for the Department of Defense. Nesterczuk worked to implement the National Security Personnel System (NSPS), a Heritage Foundation-inspired pay-for-performance management system intended to make it easier to install political appointees to civil service jobs and that would allow supervisors to circumvent union protections. The system went into effect in a minor way in the Defense Department before the courts ruled against it and it was repealed after three years.
Nesterczuk left OPM again, and in June 2006, President George W. Bush nominated him to be vice chairman of the Federal Salary Council for Labor Relations and Pay Policy. By the end of the year, he had also taken a job consulting on an overhaul of Ukraine's civil service system. He continued to work as a consultant until becoming a member of Trump's transition team.
Nesterczuk and his wife, Oksana, have two sons: Alex and Andrew.
-Steve Straehley
To Learn More:
Veteran GOP Official on Personnel Policies Named to Head OPM (by Eric Yoder, Washington Post)
Nesterczuk Tapped to Lead OPM (by Ralph R. Smith, FedSmith.com)
Tilting at Windmills (by Karen Rutzick, Government Executive)
Testimony by George Nesterczuk before the House Science Committee on the NASA Flexibility Act of 2003
A Successful Start for the Department of Homeland Security Requires Management Flexibility (by Goerge Nesterczuk, Heritage Foundation)