Secretary of the Army: Who Was Mark Green?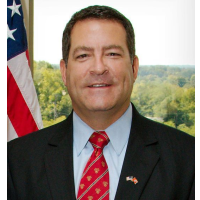 Mark Green
Tennessee State Sen. Mark Green—President Donald Trump's second choice to serve as Secretary of the Army—has bowed out in the wake of bipartisan criticism of controversial statements regarding gays, transgender persons, Muslims, Latinos, birth control, and evolution. Republican Senator John McCain, who chairs the Armed Services Committee, called Green's remarks "very concerning," while rights groups warned they would fight his nomination tooth and nail.
Ironically, Green would have succeeded Eric Fanning, who was the first openly gay Army secretary. Green, who recently opined that "transgender is a disease" has been a vocal opponent of gay Americans, recently sponsoring legislation in Tennessee that would bar local governments from even considering "the internal policies" of businesses, i.e., their treatment of LGBT employees and customers, when deciding how to spend tax dollars.
Green is Trump's second nominee for Army secretary to withdraw. Billionaire Vincent Viola withdrew in February over difficulties untangling from his financial ties.
Born November 8, 1964, in Monticello, Mississippi, Mark Green graduated West Point Military Academy in 1986. From 1987 through 1990, Green served as an infantry officer in the Army, first with the 194th Armored Brigade at Fort Knox. After completing the Infantry Officer's Advanced Course, Green served with the 82nd Airborne Division as an airborne battalion supply officer and a rifle company commander.
After his father's life was saved in an emergency situation, following an esophagus rupture, Green decided to become a doctor. He earned his M.D. at Boonshoft School of Medicine at Wright State University in 1999, and completed his residency in emergency medicine at Fort Hood, Texas, in 2002. Green served as flight surgeon for the 160th Special Operations Aviation Regiment. He was deployed overseas three times, most notably serving as an Army medic for the special operations team that captured Saddam Hussein, with whom he spent the first night after his capture. Green later wrote a book about the experience: A Night with Saddam.
Green moved to Clarksville, Tennessee, in 2002, and left the military in 2006. He was chief of emergency medicine at Gateway Medical Center in Clarksville from June 2004 to October 2007, and at Jennie Stuart Medical Center in Hopkinsville, Kentucky, from August 2007 to December 2008. Throughout this entire period, he also served as president of Emergency Services Network. A hospital staffing company.
Green soon founded his own hospital staffing company, Align MD, which was acquired in May 2015 by American Physician Partners as part of a $24 million deal—financed by Goldman Sachs—that made Green a wealthy man. Green remained the president of Align MD, and in March 2016 became CEO and chairman of the board. Green had also founded Align MD Foundation, a nonprofit that appears to have become inactive since the sale, but which Green says still runs some clinics in Tennessee.
Green entered politics in 2012 as a Tea Party favorite, when he was elected to the Tennessee Senate by defeating Democratic incumbent Tim Barnes. An evangelical Christian, in 2015 Green delivered a lecture in which he rejected the scientific theory of evolution in favor of a religious belief that God created everything without evolution.
In January 2017, Green filed to run for the Republican nomination for Governor in 2018. Now that he won't be Army Secretary, Green can proceed with this run.
Green and his wife, Camie, reside in Ashland City, Tennessee. They have two children, Mitchell and Alexa.
-Matt Bewig
To Learn More
Trump Army Secretary Nominee Withdraws Amid Fierce Opposition (by Rebecca Kheel, The Hill)
President Trump Nominates Tennessee State Sen. Mark Green for Army Secretary (by Michael Collins, USA Today)
Trump's Expected Pick To Lead The Army Sponsored Anti-LGBTQ Bill In Tennessee (by Amanda Terkel, Huffington Post)
Trump to Nominate Tennessee's Mark Green Secretary of Army (by Jake Lowary and Joey Garrison, The Tennessean)
Mark Green, the Heartless Man Who Would Be Army Chief (by Cari Wade Gervin, Nashville Scene)
Tea Party Meeting Welcomes State Sen. Mark Green as Special Guest Speaker (Lebanon Democrat)