Acting Chair of the U.S. Commission on Civil Rights: Who Is Patricia Timmons-Goodson?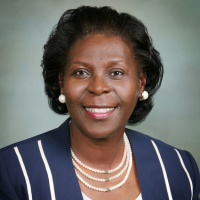 Patricia Timmons-Goodson
Patricia Timmons-Goodson, a long-time judge in North Carolina, was appointed to a six-year term on the U.S. Commission on Civil Rights in July 2014. She was chosen to be vice-chair in January 2015. As vice-chair, she served briefly as acting chair until January 2017. Created in 1957, the Commission conducts investigations, issues subpoenas, files reports, and makes recommendations to the president, Congress, and appropriate federal, state, or local government agencies or private organizations on civil rights and discrimination complaints based on age, color, disability, national origin, race, religion and sex. It also helps those who believe they have been discriminated against get in contact with the appropriate office to file a complaint.
Timmons-Goodson was born September 18, 1954, in Florence, South Carolina, one of six children of Edward and Beulah Timmons. Timmons-Goodson grew up around the United States and in Europe following her father to his Army postings. The family settled in Fayetteville, North Carolina, where Timmons-Goodson played basketball at Pine Forest High School and earned her diploma in 1972. Timmons-Goodson went on to the University of North Carolina, earning a B.A. in 1976 and a J.D. in 1979.
Her first job out of college was as a district manager for the U.S. Census Bureau's Charlotte office. She soon had a position as an assistant district attorney in North Carolina's 12th Judicial District, which includes Fayetteville. In 1983, Timmons-Goodson left government service to work as a legal aid attorney for Lumbee River Legal Services in Fayetteville.
The following year, Timmons-Goodson was made a judge in the 12th Judicial District. She served there until 1997, when she moved up to the North Carolina Court of Appeals. She retired from the bench in 2005, but the following year was appointed by Gov. Mike Easley (D) to a vacant seat on the state's Supreme Court. Timmons-Goodson became the first African-American woman on that court.
Among her prominent decisions were a dissent in a ruling by the court that the North Carolina Medical Board could not discipline physicians for assisting executions and a dissent in a ruling that blocked prisoners sentenced to life from being released because of good behavior credits. Timmons-Goodson retired in 2012, two years before her term was up.
In 2016, President Barack Obama nominated Timmons-Goodson to the U.S. District Court in eastern North Carolina. She would have been the first African-American to serve in that district, which includes a significant black population. The seat had been vacant since 2006, but Timmons-Goodson's nomination was blocked by Senator Richard Burr (R-North Carolina). It was the second time Burr had blocked an Obama nominee for that seat; the first nominee was also a black woman, Jennifer May-Parker.
Timmons-Goodson's husband, Ernest Goodson, is an orthodontist in Fayetteville. They have two adult sons, Ernest and Aaron.
-Steve Straehley
To Learn More:
Justice Patricia Timmons-Goodson to Resign From N.C. Supreme Court (by J. Andrew Curliss, Raleigh News & Observer)
Burr Vows to Block Obama Nomination to N.C. Federal Court Seat (by Anne Blythe, Raleigh News & Observer)