Chairman of the Equal Employment Opportunity Commission: Who Is Victoria Lipnic?
Tuesday, February 28, 2017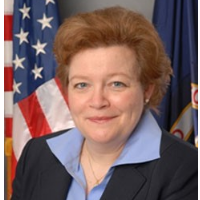 Victoria Lipnic
Victoria Lipnic, a member of the Equal Employment Opportunity Commission (EEOC) who had been widely seen as a possible secretary of labor in the Donald Trump administration, instead settled for being named acting chairman of the EEOC on January 25, 2017. The EEOC is responsible for eliminating all forms of discrimination in the workplace.
Lipnic is from Carrolltown, Pennsylvania, where her father Ed, a teacher, also served as mayor. She attended Cambria Heights High School and went on to Allegheny College, where she earned a B.A. in political science and history in 1982.
Lipnic found a job in the Reagan-era Commerce Department under then-Secretary Malcolm Baldridge, ending her stint there as special assistant to the assistant secretary for trade development and the International Trade Administration.
She then went to law school at George Mason, earning her J.D. in 1991. Lipnic worked for a time as an attorney in private practice before landing a spot in 1994 with the U.S. Postal Service as their in-house counsel for employment matters. After six years there, she moved to Congress as the workforce policy counsel to the House Education and Labor Committee.
Lipnic joined the George W. Bush administration's Department of Labor as assistant secretary for employment standards. In that position, Lipnic backed employers' calls to weaken the Family and Medical Leave Act and pushed through a change in overtime policy that allowed employers to exempt more of their workers from earning overtime pay.
After the Bush administration left office, Lipnic worked briefly at the Seyforth Shaw law firm before being appointed to the EEOC by President Barack Obama in 2010. She was reappointed in 2015. While a member of the commission, Lipnic dissented in a decision that discrimination on the basis of sexual orientation is a form of sexual discrimination and a violation of Title VII. She also voted against a proposal requiring employers to submit detailed pay data by gender, race and ethnicity as a way of curbing pay discrimination.
Speaking at the offices of her former employer, Seyfarth Shaw, on February 9, 2017, in her first speech as acting chair, Lipnic announced that she hoped the EEOC would increase its focus on age discrimination and equal pay issues and on job creation. She also expressed her intention of having EEOC commissioners vote on more complaints before they are filed in federal court, rather than having general counsel make the decisions. The EEOC currently has a Democratic majority, but that will probably be reversed in July.
-Steve Straehley
To Learn More:
Under Trump, EEOC Will Focus on Job Growth (by Kate McGovern Tornone, HR Daily Advisor)
What Trump's Secretary of Labor Could Do (by Alexia Fernández Campbell, The Atlantic)